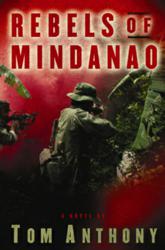 First-time author Tom Anthony drew on his three years in the Philippines to inform his fast-paced novel of intrigue, ambition, and high-stakes, high-risk missions.
New York, NY (PRWEB) January 25, 2012
Life imitates art with the bestselling thriller, "Rebels of Mindanao." A century after the U.S. granted independence to its former colony, U.S. Special Forces are on the ground in the Philippines again striving to preserve the independence of their oldest ally in Asia. Mindanao, a faraway and largely ignored island of the Philippines, has been infiltrated by al Qaeda, bringing the war on terror to another unlikely front. Meanwhile, this disturbing development has been largely ignored in the international press. First-time author Tom Anthony drew on what he observed during his three years living in the Philippines to inform "Rebels of Mindanao," a fast-paced novel of intrigue, ambition, and high-stakes, high-risk missions.
Haunted by the failure of his last mission and the lost lives of his team, Thomas Thornton had hoped to escape his former life as an undercover operative, seeking the calm beauty of tropical Mindanao. When two West Point friends, now high ranking officials in the government and military, ask him to run one last clandestine operation, he finds himself in the fray once more. Thornton recruits a hunter-killer team of Manobo tribesmen to thwart the insurgency. The mission: eliminate the Turk carrying millions in cash into Mindanao to finance an Islamic revolution. The deal: make the Turk and the cash disappear, no questions asked.
"Rebels of Mindanao," rich with Anthony's firsthand knowledge of the people of Mindanao, their government, and their land, hits hard and foreshadows a wider U.S. involvement in this escalating but still widely unknown foreign quagmire.
"An exciting epic of love versus hate, duty versus friendship and idealism versus patriotism…in Southern Philippines, where insurgents have resisted government forces for the past 400 years…a non-stop adventure…from the first page to the last." -- Brigadier General Ramon M. Ong, Armed Forces of the Philippines
About the Author: Tom Anthony graduated from West Point and spent six years as an Army officer. Following his discharge, he earned an MBA in International Business and lived all over Europe and Asia working for a large U.S. multinational as well as smaller, new technology companies. Tom lived in Mindanao for three years, where he had close contact with military and political leaders of the highest stature. His personal observation of the struggle that continues to this day became the basis for this first novel. Tom currently resides in Southern California.
"Rebels of Mindanao"
Author: Tom Anthony
Pub Date: June, 2008
Price: $24.95 * Hardcover and Ebook * Fiction (Action/Adventure) * 6x 9 * 289 pages
ISBN: 978-0-8253-0514-6; LC # 2007052193
Published by Beaufort Books, New York
Distributed by Midpoint Trade Books, New York
###