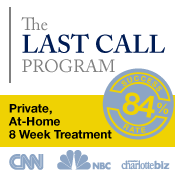 Our biggest achievement was not just how effective the program is, but that anybody can do it from the comfort of their home...
(PRWEB) January 25, 2012
A new and innovative form of treatment for alcohol addiction, The Last Call Program, is paving the way for the future of recovering addicts. Case studies gathered in the testing of the program led to dramatic conclusions that people with an alcohol addiction, no matter how strong, can give up the urge to drink within only a few weeks. After scientific studies were conducted to look at how years of alcohol consumption can affect a person's neural behavior, the Last Call Program specifically targets this chemical imbalance to beat alcohol addiction for good.
Alcohol addiction is a problem that has plagued the lives of 17.6 million people over the last year alone (http://www.thelastcallprogram.com/casestudyv4.pdf). It can start off quite innocently, merely as a drink at the end of a stressful day as a way to unwind, or at social events with friends and colleagues. But things can soon spiral out of control, often leading to serious personal harm and injury to others. Figures for alcohol-related driving collisions in 2006 put the number of fatalities around the 17,000 mark (http://www.thelastcallprogram.com/casestudyv4.pdf), and it is because of alcohol that people are not realizing the dangers they are putting themselves and others in.
Deciding to finally stop drinking is a difficult task in itself, but finding the right form of treatment can be daunting work, and often leads to relapse when the treatments are ineffective. Many people feel that conventional forms of treatment are only suitable as a last effort to give up after "losing it all" from drinking. These methods are often expensive and only seem like viable options to those who have already put great harm on themselves. What is needed is a treatment that works for everybody – even those who have only begun to realize that they have a mild problem and want to stop.
The Last Call Program is a fresh approach to a commonly occurring problem. It offers an alternative solution for people wishing to reduce their urge to drink alcohol without the need to expose their problem to the outside world. The program works through the daily intake of its proprietary Daidzin-based compound Sobrexa that helps restore chemical balance in the brain. Over the course of eight weeks, the effects of Sobrexa can completely remove the desire for alcohol, even in the strongest addicts. 212 studies conducted on Daidzin-based compounds have been shown to reduce the desire to consume excessive alcohol in humans. The Last Call Program, which features a Daidzin-based compound, Sobrexa, has put thousands of people through their program with astounding findings. All of this data led to the conclusion that the program has an 84% proven and verified success rate, meaning specifically that out of those that took part, 84% successfully gave up alcohol and no longer had the excessive urge to drink...even when followed up with a year after completing the program.
The causes of alcohol addiction have been the subject of much debate among scientists for many years. Recent studies have focused specifically on the chemical imbalances in the brain which reinforce the actions of alcohol. The studies have suggested that a person's ability to successfully give up alcohol is often out of their control, since their addiction is caused by changes in neural function brought about by years of alcohol consumption. If a person is to recover from years of drinking, they must restore chemical balance in the brain in order to stop.
###