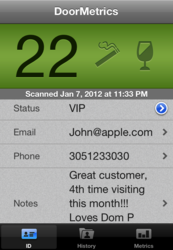 "Since our business relies heavily on travelers, being able to communicate to them and invite them back is critical to growing our business.  Using DoorMetrics to organize guest data helps us do this." Roy Kelin, Dir. of Operations, One Group Miami
Miami Beach, FL (PRWEB) January 25, 2012
Velvet Rope Customs, LLC announced today a major update to their iPhone application that allows users to check and verify the age of customers. DoorMetrics was created specifically for the Nightclub and Bar industry but also works great for any business that requires proof of age such as Casinos, Hotels, Boat and Car Rental, and Convenience stores.
"We wanted to give Nightclub owners and their door staff the option to purchase a smaller and less expensive age verification system than what is currently on the market," says Chad Love, founder of Velvet Rope Customs. "With a wide range of businesses requiring their staff to check the age of its customers, we saw a need that goes far beyond the Nightclub industry."  Eddie Velez from Boat Rental Miami knows this first hand as he was one of the first non-Food and Beverage businesses to use the DoorMetrics system.  "We use DoorMetrics to keep track of our customers who rent boats and jet skis from us.  DoorMetrics not only helps us to recognize repeat customers but also is helping us organize our database of clients", said Velez.
A new hand-held tool for doormen, security guards, cashiers, bartenders or waitresses, DoorMetrics begins with one of two focuses: verify the age of customers while at the same time, collecting demographic data about them. Once a compatible device is connected to the iPhone, a user either scans the barcode on the back of a customer's ID or slides it through the mag stripe reader.  The age of the person is then clearly displayed on the screen with options for inputting information such as email address, phone number, status or any notes about the guest.  This data can either be saved and exported in .CSV through the built in email app or deleted immediately depending on state laws where the app is being used.  A wifi connection is only required to export the history file but is not required for general use of the app making it extremely portable and versatile.
"We already had an ID scanner at our hotel to verify age, but we purchased and starting using DoorMetrics because it offered more ways to track our customers as we rely heavily on repeat business to build our brand.  In a short period of time, DoorMetrics has helped us to build up our customer database and virtually pay back the initial investment for the system" said Roy Kelin, Director of Operations for The One Group Miami. "Since our business relies heavily on travelers, being able to communicate to them and invite them back is critical to growing our business.  Using DoorMetrics to organize guest data helps us do this."
Key Features:
-Barcode and Magnetic stripe ID scanning
-Add a status to each scan (VIP, Big Spender, No Re-Entry, etc...)
-Notification of repeat entries
-Collect email address and phone # of your customers
-Add notes about customers (Did they spend a lot of money? What was their favorite champagne?  Was it their anniversary?)
-Displays the number of males/females that have been scanned for real time demographic analysis
-Breakdown of all scans into age groups
-Recognizes expired ID's
-Date and Time stamp of all scans
DoorMetrics requires the use of one of the following compatible external devices: Linea Pro 4, ID Tech iMag, UniMag, and iMag Pro, which are all available for sale on the DoorMetrics website.  The DoorMetrics app is available to download on the iPhone app store: http://itunes.apple.com/us/app/jojo-id/id441744173?mt=8. for $9.99.
About Velvet Rope Customs
Velvet Rope Customs, LLC is an app development and design company operating out of Miami Beach, Florida since 2010.  It focuses on the creation and design of iPhone/iPad apps for the Food and Beverage as well as the Hospitality industries. VRC is led by founder Chad Love who has more than 17 years experience in the Nightclub and the Hotel industry. He has been a leader in Miami's famous South Beach entertainment district since 2001 and continues to this day. For more information, visit http://www.doormetrics.com or call (305) 222-7789.
###