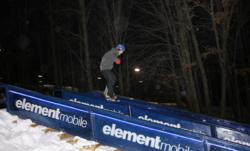 "Element Mobile is proud to once again be a part of such an exciting event for our Central Wisconsin community," said Jackie Shea, community and public relations at Element Mobile.
Wisconsin Rapids, Wis. (PRWEB) January 24, 2012
Element Mobile will again sponsor the Rail Jam trick and jump competition at Nordic Mountain on Saturday, Jan. 28, 2012.
This is the second year the company has sponsored the Rail Jam, in which participants compete for the chance to win up to $2,000 in cash prizes. Jackie Shea, community and public relations for Element Mobile, said last year's event drew competitors from all over the Midwest.
"The talent level Rail Jam attracts results in a competitive and energized event. It's good fun for participants and spectators like," said Shea. "Element Mobile is proud to once again be a part of such an exciting event for our Central Wisconsin community."
Participants of all ages will demonstrate their best ski and snowboard tricks on the Element Mobile Stairs, an attraction built last year to help bring events such as Rail Jam to the hill. The stairs are open daily for use and feature light-up steps and three different rails.
A $2,000 grand prize will be awarded to the winner of the open class (men's) division and a $500 grand prize to the open class women's division. First, second and third place prizes will also be available in both divisions. Element Mobile will sponsor a product toss during the event for a chance to win t-shirts, hats, sunglasses and more.
Registration closes at 5 p.m. on Jan. 28 and the event begins at 6 p.m. Cost to participate is $25 plus the cost of a lift ticket. Interested participants can register online at http://nordicmountain.com/railjam or call 1-800-253-7266.
To further promote the Rail Jam event, Element Mobile is also running a Catch the Rail social media contest. To enter, individuals must upload a picture using the Element Mobile Stairs to the contest tab on Element's Facebook page. Entries will be accepted Jan. 18 - Jan. 29 and public voting for the best photo will open Jan. 30 - Feb. 3. Prizes will be awarded to first, second and third place winners. The contest is open to anyone, including but not limited to Rail Jam participants. More details are available at facebook.com/elementmobile.
In addition to Rail Jam, Element Mobile recently sponsored Free Ski Day at Nordic Mountain and assists in bringing the Burton Learn to Ride Program to the hill. Shea said Element Mobile is proud of its partnership with Nordic Mountain and will continue to support the active and lifestyle-focused activities of Central Wisconsin residents.
About Element Mobile
Element Mobile, a wireless carrier headquartered in Wisconsin Rapids, Wisconsin, offers a wide range of products including Android and BlackBerry, and services including eSmart, eClub, Mobile 101 and instant rebates. The company is proud to deliver customized plans, affordable prices and local customer service to Central Wisconsin. To learn more about Element Mobile, visit http://www.elementmobile.com, or http://www.facebook.com/ElementMobile.
###