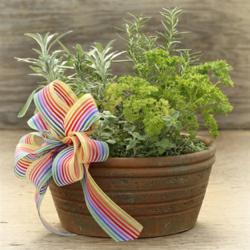 "The Culinary Herb Garden Kit is about what cuisine the customer wants to try, what flavors they want to create," explains Kenan White, co-owner of The Growers Exchange. "And, it's about giving back to local communities."
Charles City, VA (PRWEB) January 26, 2012
The Growers Exchange is introducing the Culinary Herb Garden Kit, their most convenient herb kit to date, to let people choose their favorite flavors based on their cuisine preference.
To make herb gardening even more full of life, twenty percent of proceeds from each Culinary Herb Garden Kit supports Plant A Row For The Hungry, a nonprofit organization that shares locally homegrown food with American families in need.
"The Culinary Herb Garden Kit is about what cuisine the customer wants to try, what flavors they want to create," explains Kenan White, co-owner of The Growers Exchange. "And, it's about giving back to local communities."
This sustainable gift is ideal for any occasion, from birthdays or baby showers to hostess gifts or housewarming presents. Customers can choose from six kits that represent specific flavors found in cuisines like French, Italian and Middle Eastern and include four fresh herb plants, potting soil, a hand thrown rustic clay pot, and detailed planting instructions.
"Sharing a meal brings people together and giving the Culinary Herb Garden Kit brings a smile to someone you love and a smile to a hungry child whose family may be struggling to put food on their table," said White, who works on her family's farm in Virginia and offers herbs, plants and garden accessories online.
The Gift that Sustains
The trend to give something sustainable continues to rise in popularity, and consumers are constantly on a quest to find a distinctive green gift with meaning.
"Giving a living, potted herb is a wonderful green gift because it continues to be beautiful and useful year round. It shows you appreciate someone more than just giving a card or saying thank you—it really makes them feel special," White said.
These potted kits incorporate traditional herbs like rosemary, mint, parsley and oregano with a few of the more uncommon herbs like lovage, winter savory and chervil. Perfect for beginner or seasoned chefs, these kits are used in the kitchen or to naturally freshen your home or bath with zesty aromas, bringing life and energy to a home. Plus, they are easy to maintain year round.
"In a market so saturated with artificial, automatic gifts, the classic art of gardening is reinvented in a new light with the Culinary Herb Garden Kit," says White. "It's a dynamic, meaningful gift that continues to grow."
The Growers Exchange (http://www.thegrowers-exchange.com) is an online nursery specializing in an array of herbs, flowers and potted herb kits. With over 25 years of experience, this family farm has become the industry standard for herb growing and provides high quality, healthy plants and products shipped directly to your door. These plants have been featured on the Martha Stewart show, in movies and in many notable publications, and are grown naturally, without harsh chemicals.
###