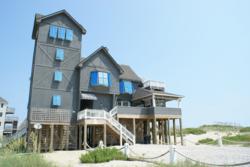 (PRWEB) January 26, 2012
Sun Realty, the Outer Banks' largest vacation rental company, recently expanded its inventory on Hatteras Island, NC. On Friday, January 20th 2012, Sun Realty took over management of close to 100 Hatteras vacation homes that were formerly managed by Vacation Traditions.
Sun Realty, already the leader in the Outer Banks vacation rental industry, has widened the gap on vacation homes managed, representing the largest inventory of rental homes on the Outer Banks. "Hatteras Island is a special place. We are excited and proud to increase our selection of Hatteras beach homes with the addition of these wonderful Vacation Tradition properties. We've received great response from the Vacation Traditions homeowners and guests already and look forward to a continuing a strong relationship with them!", stated Ali Breaux, President of Sun Realty.
Vacation Traditions, a Hatteras Island vacation rental company, was established by Marsha Brown and Bonnie Rowe in 2009. The most famous of homes managed is "Inn at Rodanthe" (formerly named "Serendipity"), the home featured in the movie "Nights in Rodanthe" starring Richard Gere and Diane Lane. In addition to the famous home, Sun Realty is gaining some great "beach-cottage" style vacation homes in the heart of Hatteras Island. "I'm pleased to continue the vacation tradition of friendly, personal service coupled with Sun's wealth of resources. Sun Realty is well established on Hatteras Island, with a strong local presence and resources that will be of great benefit to our owners and guests. Their ability to provide exceptional travel insurance through Red Sky's Trip Preserver was important to me.", states Bonnie Rowe. Sun is happy to welcome Bonnie Rowe as well as former Vacation Traditions staffer Bonnie Jo Waits to their Salvo and Avon offices.
To reserve an Outer Banks vacation or to view the entire inventory of Outer Banks vacation homes, including the newest Hatteras Island additions, visit http://www.SunRealtyNC.com or call 800-334-3745.
About Sun Realty:
Sun Realty is the largest real estate sales and vacation rental company on The Outer Banks of North Carolina. Established in 1980 by E.Paul Breaux, Sun Realty has 7 offices and manages a large selection of fine vacation homes from Carova to Hatteras Island. For more information visit http://www.sunrealtync.com, or call 1-888-853-7770.
###