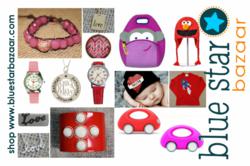 Blue Star Bazaar offers a collection of items that will make the perfect 'token of affection' for all Valentines
Wilton, CT (PRWEB) January 26, 2012
Blue Star Bazaar offers a collection of items that will make the perfect "token of affection" for all Valentines.
The collection can be found on Blue Star Bazaar's website. Some of the items to be included are:

Watches in festive red and pink from Tokyobay. These fashionable watches for women and men look great year round but are even sweeter for the holiday. Normally priced at $75 to $85, they're always a great value. However, right now, you can pick up select styles at 30% off.
"Love" necklaces from Tashi. These necklaces in sterling silver gold vermeil are tiny works of art. They are delicate yet modern. The necklaces come in a variety of styles which work the word "love" into the design. All under $50.
Whimsical t-shirts for children. Blue Star Bazaar offers fun cotton t-shirts for kids. The bold red shirt featuring a felt rocket ship is especially festive for the little man of your dreams.
Ladies "love" clutch purse. This stylish clutch is made of felt in two shades of gray. The colors make it neutral enough to use throughout the season. The appliqued "love" makes it extra special for Valentine's Day.
Red and pink "Go Cars." A great alternative to candy, give your littlest Valentine something that will provide hours of playtime fun. These little mod cars are a toddler's best friend. At $12, they're friendly towards your wallet too.
To see images of these products and more, please refer to the photo included with this press release. You can buy all items here.
Blue Star Bazaar, founded in 2010 by Megan LaBant Abrahamsen, is an online retailer of unique gifts for women and kids. For those looking for unique gift ideas, Blue Star Bazaar offers a range of products that meet the tough standards of quality, individuality, style, and value. Product categories include jewelry, scarves, watches, handbags, t-shirts, toys, and home accessories. Find the perfect gift at Blue Star Bazaar, headquartered in Wilton, CT.
To learn about future events and sales and receive a $10 bonus, register here.
Also, be sure to follow Blue Star Bazaar on facebook for special deals.
###