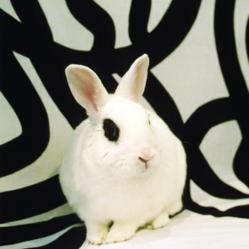 BrooklynBunny.com is a live webcam of a soft white bunny from the hard streets of Brooklyn, New York.
Brooklyn, NY (PRWEB) January 30, 2012
Brooklyn Bunny. (2012)
Brooklyn Bunny is a rabbit webcam that first went live on August 28, 2005. The website is a project of graphic designers Kevin Dresser and Kate Johnson of the design firm Dresser Johnson.
The idea was initiated when Dresser and Johnson discussed starting a rabbit pet-sitting business from their design studio. The idea was to have two live webcams so rabbit owners could check in on their rabbit via the internet. However, the pet-sitting business was scrapped when they offered to care for a foster rabbit. The idea of the Brooklyn Bunny website was born when they became attached to the Dwarf Hotot rabbit, which they decided to name Roebling after John A. Roebling, designer of the Brooklyn Bridge.
The website is very popular with many fans uploading and discussing their favorite screen images to Brooklyn Bunny's Facebook page. Although the consistent average is 250-300 visitors per day, the website has recorded memorable days with up to 12,000 different users viewing the webcams. A very popular time for viewers is "Oaty Time" every night at 10:00pm (Eastern Standard Time). Roebling gets his evening oats and usually flops down after. Click HERE to watch a video of "Oaty Time".
About the Logo
Designed by Kevin Dresser, the Brooklyn Bunny logotype is the first design to anthropomorphize the Brooklyn Bridge towers as rabbit ears. This iconic logo has become very popular with designers and non-designers alike.
About Brooklyn Bunny
Roebling the Brooklyn Bunny is a rescued rabbit from Brooklyn, New York. His breed is Dwarf Hotot (pronounced, Hoe-Toe). This breed is know for their bright white fur and unique natural black eyeliner.
Kevin Dresser has been designing with type and image since 1985, when he created his first commercial work while still in high school. Later part of New York's street art scene, Dresser graduated with a degree in graphic design from Pratt Institute and completed a three-year digital font design apprenticeship under the tutelage of Jonathan Hoefler.
He has designed identities for Band-Aid, Acuvue, King Magazine, Diario de Yucatan, Financial Week, Guitar One, Home Magazine, Rebecca Turbow, Modern Bride and Brooklyn Bunny; custom fonts for Google Chrome, The New York Times Magazine, Architectural Digest, Eminem, Guitar World and the Rodeph Sholom Synagogue; and custom pictograms for The Museum of Modern Art, the Empire State Building, Columbia University, Johnson & Johnson, Radio City Music Hall, The National newspaper (U.A.E.), Computer Shopper, Outside, Guitar World and Working Mother.
Dresser was featured in the Art Directors Club's inaugural "Young Guns" exhibition in 1997, and his illustration and type design have been included in AIGA 50 Books/50 Covers. His work has been published in Beautiful Decay and the books 1000 Icons, Symbols and Pictograms (Rockport, 2006) and Art de Rue (Artifacts by Free Presse, 2004.
Kate Johnson's design combines conceptual thinking and precise typographic control. She holds a BFA from Rhode Island School of Design. She established her career as a senior designer at The Museum of Modern Art, where she gained recognition for the design of "Groundswell", the first large-scale exhibition installed at the newly renovated MoMA in 2005.
Johnson designs for many of New York's major cultural institutions and arts organizations. She has created exhibition branding and print programs for The New York Public Library ("Eminent Domain: Contemporary Photography and the City" and "Recollection: Thirty Years of Photography at The New York Public Library"); the National Museum of the American Indian, Smithsonian Institution ("Hide: Skin as Material and Metaphor"); The Museum of Modern Art ("Roth Time: A Dieter Roth Retrospective" and "Groundswell: Constructing the Contemporary Landscape"); and the American Folk Art Museum ("Gilded
Lions and Jeweled Horses: The Synagogue to the Carousel" and "Year of the Quilt").
She has created book and catalogue designs for the Goethe-Institut New York, Americas Society, New York Foundling Hospital, the Robin Hood Foundation and the Center for the Intrepid.
###