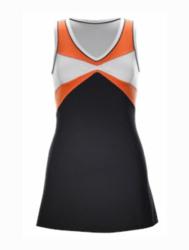 The spring 2012 collection was designed to inspire, excite and empower our customers...
Doral, FL (PRWEB) January 26, 2012
Tail Activewear, a leading manufacturer of golf and tennis clothes for women, has launched their latest collection of ladies golf apparel and tennis apparel for women for the spring 2012 sports season. Always in tune with their customers' needs, Tail Activewear began offering this collection in time to help women look great as they work hard to maintain their New Year's resolutions for health and fitness. The spring 2012 collection showcases slim-fitting styles of tanks, polos, dresses and skirts in feminine hues, such as purple and pink.
"After the hectic holiday season ends, many of our customers recommit to their fitness goals at the start of the new year," said Jason Burr, spokesperson for Tail Activewear. "We strive to help them work toward their goals by introducing a new collection of tennis apparel for women and ladies golf apparel that they look forward to wearing during exercise activities. The spring 2012 collection was designed to inspire, excite and empower our customers so they can stay on track and accomplish their sport and fitness goals for the new year."
Tail Activewear uses the latest fabric technology to manufacture clothing that is made from innovative materials that are designed to control moisture and minimize friction. Each article of high-performance clothing in the spring 2012 line has been diligently tested to ensure that it meets the high standards of quality that Tail Activewear customers have come to expect from the brand.
The brand's merchandise is sold through their online store, at retail outlets in St. Augustine and in Sunrise, Florida, and at premium retail shops that specialize in selling premium-quality golf and tennis apparel for women throughout the United States.
To view the entire collection, visit them at http://www.tailactivewear.com/.
###