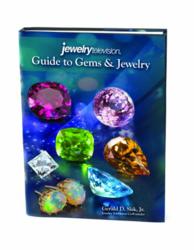 This is a handy, up-to-date guide that covers a wide range of topics of interest to budding gemologists, gem collectors and jewelry hobbyists.
Knoxville, TN (PRWEB) January 25, 2012
Jewelry Television® (JTV), the world's largest retailer of loose gemstones, announced the worldwide release of a new book called "Guide to Gems and Jewelry." The book, set to be available Jan. 28, was revised and edited by Gerald Sisk, graduate gemologist and co-founder of JTV.
"Having traveled across the globe throughout my 40-year career in the field of jewelry and gemstones, I feel fortunate in gaining access to a vast amount of knowledge and information," said Sisk. "I have a great deal of passion for gemstones. This book is the culmination of many years of international travel, extensive study, and building relationships around the world. I'm hopeful that gemstone and jewelry enthusiasts will find 'Guide to Jewelry and Gems' helpful and entertaining."
From the mines of Tanzania to pearl farms in China, Sisk has journeyed far and wide to bring his extensive industry knowledge to the public. In addition to receiving his graduate gemologist degree from the Gemological Institute of America, he is also a member of the International Colored Gemstone Association and has served as a committee member for the Gemstone Industry Laboratory Conference.
Sisk recently helped lead JTV's first annual international Gem Congress, which brought industry experts from many countries to JTV corporate headquarters in Knoxville, Tenn. The purpose of Gem Congress was to promote innovation, collaboration, and transparency within the international gemstone community.
"Through the years, JTV has come to be known as the world's leading source of loose gemstones, especially stones that might never have been made available to the public," said Tim Matthews, president and CEO of Jewelry Television. "This book presents material about the unique characteristics of gemstones in a way that is educational to readers at all interest levels."
"This is a handy, up-to-date guide that covers a wide range of topics of interest to budding gemologists, gem collectors and jewelry hobbyists," said Sisk. "It's an easy read that will make a nice addition any growing library."
The book, a full-color educational guide, includes information about the histories and legends of many stones as well as material on gemstone formation, mining, cutting and design. It is scheduled for an exclusive release on JTV® Jan. 28, 2012.
About Jewelry Television®
Jewelry Television® (JTV) is the only broadcast shopping network that focuses exclusively on the sale of fine jewelry and gemstones. The privately-held company was founded in 1993 and broadcasts high definition programming 24 hours a day, seven days a week, to over 80 million unique households in the U.S. Jewelry Television® was recently ranked the 14th largest retailer of fine jewelry in the U.S. by National Jeweler. JTV.com is the fifth largest jewelry destination on the internet according to Internet Retailer's Top 500 Guide for 2010. For more information, visit JTV.com.
###