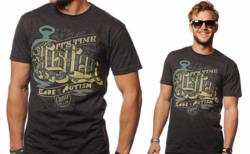 Los Angeles, CA (PRWEB) January 25, 2012
Social good startup Sevenly has completed its most successful campaign to date, raising over $22,000 in only one week for Autism Speaks. The company, in operation for just over six months, has donated over $215,000 to various charities to help fight some of the world's greatest causes.
"I was completely blown away by our co-givers last week," said Sevenly CEO Dale Partridge. "We have had some big weeks before, raising $14,000 or $16,000, but to raise over $22,000 in just one week is awesome."
When Sevenly was launched in June 2011 by then 25-year-old CEO Dale Partridge and his partner Aaron Chavez, one of the top social media gurus in the country, they hoped to change the world by creating a way for people of their generation to give and to demonstrate caring for others. Social media awareness became a focal point of their company and still is. They track each campaign's "awareness goals", which includes how many times the campaign has been tweeted and liked.
"The success of last week's campaign is really a testament to how many of our fans and supporters are spreading the word about us through their social networks," added Partridge. "Without them sharing this with all their friends we wouldn't be able to raise this much in just a week. We are super grateful for that support and glad to see so many people getting involved. The model makes it simple because if they can't afford to buy a shirt each week then they can at least help spread the word to their friends."
Autism Speaks, the world's largest autism science and advocacy organization, was founded in February 2005 by Suzanne and Bob Wright, the grandparents of a child with autism. The organization is dedicated to funding research into the causes, prevention, treatments and a cure for autism; increasing awareness of autism spectrum disorders; and advocating for the needs of individuals with autism and their families.
"We are extremely grateful to Sevenly for its efforts to raise awareness and funds for the autism community and appreciate the support of everyone who purchased an Autism Speaks tee-shirt," said Marc Sirkin, chief community officer, Autism Speaks. "This was a truly unique campaign and tremendous success thanks to the dedication of these individuals."
Sevenly is a co-profit company founded in June 2011 to raise capital and awareness for the world's greatest causes. Each week Sevenly partners with one qualified nonprofit to sell a shirt specifically designed for that week's campaign, with seven dollars from each shirt sale going to the charity. Run by CEO Dale Partridge, the company's goal is to provide support to charities through increased awareness, funding and following. To learn more about Sevenly visit http://www.Sevenly.org.
Autism Speaks is the world's largest autism science and advocacy organization. Since its inception, Autism Speaks has made enormous strides, committing over $173 million to research and developing innovative resources for families. Each year Walk Now for Autism Speaks events are held in more than 80 cities across North America. To learn more about Autism Speaks, please visit http://www.autismspeaks.org.
###