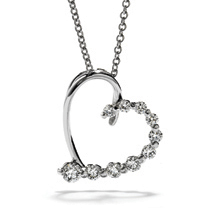 Danvers, MA (PRWEB) January 26, 2012
Carter's Diamonds announces the launch of "Hearts On Fire In Ice Presented by Carter's Diamonds." Carter's Diamonds has partnered with Boston based luxury diamond jewelry company Hearts On Fire for the promotion. The grand prize is a Transcend Dream diamond engagement ring valued at $20,000. Four runners up will receive a piece from Hearts On Fire's fashion line of diamond jewelry valued at $1,750.
Carter's Diamonds is currently accepting entries on their facebook page at facebook.com/CartersDiamondsAndFineJewelry. Entrants are asked to tell their love story in one hundred words or less, upload a photo and optional video. Twenty-four entries will be chosen to move forward to the semi-finals voting period in which the public can vote for their favorite entry on facebook. The top 5 finalists with the most votes will go head to head on February 18th and race to melt blocks of ice that contain replica diamond rings inside. The event will take place outside of Carter's Diamonds on Rte 114 in Danvers and will be hosted by the one and only local radio legend Billy Costa of Kiss 108.
Carter's Diamonds has been the North Shore's premier destination for engagement and fine jewelry since 2001. And for those who desire the ultimate in luxury, Carter's offers custom, one-of-a-kind jewelry.
Contact info:
Carter's Diamonds
150 Andover Street
Route 114 (across the street from Lowes Home Improvement)
Danvers, Massachusetts 01923
978.646.8811
Press inquiries:
Jill DeCoste
Manager of Public Relations & Marketing
jilld(at)laws6(dot)com
978.767.9510
About Hearts On Fire Company
The Hearts On Fire Company (HOF) is successfully building the pre-eminent consumer brand in the fine diamond jewelry business, powered by the pulsating energy of its extraordinary diamonds. Founded in 1996, Hearts On Fire has established a new industry standard for diamond cutting perfection, enabling the Company to become the world's fastest growing diamond brand. The Company continues to redefine the industry through its extraordinary diamonds, sophisticated marketing and training programs and unique retail relationships. Hearts On Fire, The World's Most Perfectly Cut Diamond®, is carried in 34 countries, including over 500 U.S. retail locations, as well as locations throughout the U.K., Asia, and the Caribbean. Hearts On Fire now also sells its entire collection online, including diamond engagement rings and wedding bands, necklaces, earrings, bracelets, right hand rings and diamond rings for men. For more information, please visit http://www.heartsonfire.com.
###