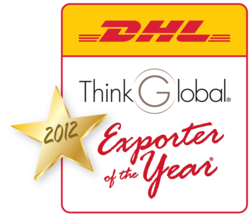 "Exporting is a critical part of the U.S. economy and job creation in America, accounting for 12.5 percent of the nation's GDP. For many American manufacturers, new job creation is the direct result of export success."
Northampton, MA and Plantation, FL (PRWEB) January 25, 2012
ThinkGlobal Inc., the publisher of Commercial News USA and manager of the USA Export Expo, has announced the winners of the 2012 DHL-ThinkGlobal Exporter of the Year Awards. The awards recognize the export success of small- and medium-sized American businesses.
"This year's winners reflect the diversity of American exporters, 97 percent of whom are small- to medium-sized enterprises," said Gregory Sandler, president of ThinkGlobal. "Exporting is a critical part of the U.S. economy, accounting for 12.5 percent of the nation's GDP. For many American manufacturers, new job creation is the direct result of export success. Moreover, 70 percent of the world's purchasing power is located outside of the United States."
Winning companies outperformed others in their total number of documented export transactions; the total percentage increase in sales; exports as a percentage of total sales; and their commitment to exporting, customer service, innovation and originality in marketing products or services. To be eligible for the award, a company must be a current U.S. exporter.
"As specialists in international shipping and facilitators of trade, DHL is pleased to be part of this national program that recognizes excellence in exporting," said Ian Clough, CEO of DHL Express U.S. "These winners underscore just how important it is for U.S. companies to identify and capitalize on export opportunities to grow their business."
The awards will be presented to one U.S. company in each of 13 industry categories. This year's award winners include: Boscogen Inc., CA (Health & Beauty/Fashion); Firestone Security Solutions, IL (Safety & Security); The Fremont Company, OH (Hotel & Restaurant Equipment/Food/Food Processing); Heat Trace Products LLC, MA (Electrical/Electronics); Hernon Manufacturing, FL (Materials); Hurd Windows & Doors, WI (Building/Construction/Hardware); The Intermarket Group, FL (Business Services); ITA-MED Co., CA (Medical/Scientific Products & Equipment); Marketing Arm International Inc., FL (Agriculture); New Waste Concepts, OH (Environmental); Signature Fencing and Flooring Systems LLC, NY (Industrial Equipment, Services, & Supplies); Top 1 Oil, CA (Automotive/Aviation/Marine); and West Coast Corporation, CA (Consumer Goods).
About ThinkGlobal
ThinkGlobal Inc. is a print and online publishing company that manages the USA Export Expo and produces Commercial News USA, the official export promotion magazine of the U.S. Department of Commerce. Commercial News USA reaches 250,000 international buyers in print and online. ThinkGlobal also is a corporate marketing partner with the U.S. Commercial Service, part of the International Trade Administration within the Commerce Department. http://www.thinkglobal.com
About DHL
DHL is the global market leader in the logistics industry and "the Logistics company for the world". DHL commits its expertise in international express, air and ocean freight, road and rail transportation, contract logistics and international mail services to its customers. A global network composed of more than 220 countries and territories and about 275,000 employees worldwide offers customers superior service quality and local knowledge to satisfy their supply chain requirements. DHL is part of Deutsche Post DHL. The Group generated revenue of more than 51 billion euros in 2010. For more information: http://www.dhl-usa.com.
About the Exporter of the Year Awards
The Exporter of the Year Awards program was launched by ThinkGlobal Inc. in 2005 to recognize the achievements of U.S. exporters. Both ThinkGlobal and Exporter of the Year are registered trademarks of ThinkGlobal Incorporated.
Information about the Exporter of the Year awards, including profiles of all the winning companies, is available online at http://www.exporteroftheyear.com.
###