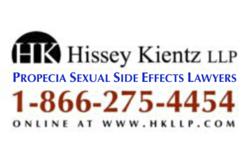 In one study, 38% of Propecia users experienced sexual problems after taking the drug.
Austin, Texas (PRWEB) January 26, 2012
The law firm of Hissey Kientz, LLP is announcing the launch of its new website, Propecia Side Effects Lawyers (http://www.propeciasideeffectslawyers.com/). The site will serve as a news and information resource for individuals who may have developed sexual problems after taking Propecia.
Approved by the Food and Drug Administration in 1997, Propecia is proscribed for the treatment of male pattern baldness. Finasteride, the active ingredient in Propecia, is also prescribed under the brand name Proscar to treat men with an enlarged prostate.
According to two studies published in the Journal of Sexual Medicine (JSM), patients taking Propecia may be at an increased risk of developing sexual side effects, including impotence, low libido, erectile dysfunction, decreased sexual arousal, problems with orgasm and decreased sexual satisfaction. In one of the studies, 38% of Propecia users experienced sexual problems after taking the drug.
Researchers in the two JSM studies also found that the side effects of Propecia could last for years after a patient has stopped taking the drug. Based on these findings, health officials in the UK and Sweden issued warnings about Propecia's potential for causing sexual side effects. Despite these health alerts, the FDA has not announced plans to issue a similar warning concerning Propecia to patients in the U.S.
Several Propecia lawsuits (3:11-cv-00641) have already been filed in the US by patients who alleged they developed sexual side effects from using the drug. Class action lawsuits have also been filed on behalf of Propecia users in both the US and Canada (2011 BCSC 741).
If you or a loved one used Propecia and developed impotence, erectile dysfunction, low sex drive or other sexual side effects, you may be eligible to file a lawsuit. To receive a free legal consultation, contact the lawyers at Hissey Kientz, LLP by calling toll-free at 1-866-275-4454, or by visiting us online at Propecia Side Effects Lawyers.
About Hissey Kientz, LLP
Hissey Kientz, LLP (http://www.hkllp.com) represents individuals affected by sexual side effects from Propecia, as well as victims of mesothelioma and other asbestos-related diseases, birth defects linked to the antidepressant drugs Paxil, Zoloft, Prozac, Lexapro, Celexa, Effexor, Xanax and Wellbutrin, Crestor side effects, problems with transvaginal mesh, DePuy ASR and Pinnacle hip replacements, Depakote birth defects, Actos bladder cancer, birth defects caused by Topamax, side effects from Avandia and other defective drugs and medical devices.
###