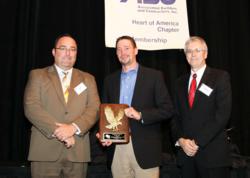 "These awards are representative of our hard work, craftsmanship, attention to detail and ability to exceed the customer's expectations."
Shawnee, Kansas (PRWEB) January 25, 2012
Straub Construction Kansas City has won multiple local and national awards for their outstanding projects and has also earned a general contractor of the year award. The National Commercial Builders Council (NCBC) has awarded Straub Construction Company, Inc. with two "Grand Awards" in their 2012 Awards of Excellence" competition. The award-winning projects are: Kenwood Cove (Salina, KS), the largest municipal water park in the State of Kansas, and 909 Walnut for Entertainment Properties Trust (Kansas City, MO), a historic office renovation completed in just 11 weeks.
Straub Construction Company, Inc. also won two awards from the Associated Builders and Contractors (ABC) Heart of America Chapter during their 2011 Excellence in Construction Banquet. Straub was awarded "General Contractor of the Year" and the project Eisenhower Ridge Building 19 (Leavenworth, KS) won an "Excellence in Construction" award in the Historic Renovation category. Straub has won Excellence in Construction awards for their projects for 14 out of 16 years and is the General Contractor of the Year for a second straight year.
The Eisenhower Ridge Building 19 project in Leavenworth, Kansas also won a "Judges Award" from the National Housing & Rehabilitation Association (NH&RA) as part of their J. Timothy Anderson Awards for Excellence in Historic Rehabilitation. The 125-year-old property, a former Civil War mess hall, was adapted to a state-of-the-art office building while preserving the beautiful historic elements.
The 92 year old company's President, Ernest Straub III, is very excited about the awards. "These awards are representative of our hard work, craftsmanship, attention to detail and ability to exceed the customer's expectations. These projects were each very unique and challenging and we thoroughly enjoyed being a part of them. We are thrilled to be recognized by our peers for the efforts our team put into these great projects."
###