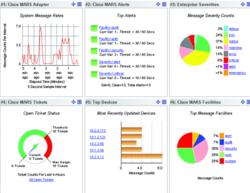 This release is the culmination of requests from our user community as well as feedback received from leading analyst research firms.
Naples, Florida (PRWEB) January 25, 2012
CorreLog, the leader in software solutions for IT security event correlation, today announced the general availability of CorreLog Enterprise Server 5.1. The new release includes several enhancements to the current offering, most notably the highly anticipated release of CorreLog Normalizer and Database Loader (NDL), a new offering from CorreLog that allows users to configure match patterns and rules to parse complex, unstructured data into a relational database. NDL can parse messages for any system device, with the capability to load the messages at a sustained throughput of more than 1,000 per second.
Additional enhancements to CorreLog Enterprise Server 5.1 include:

Ability to mask user names to enable anonymous user tracking, promoting greater user privacy while removing operator monitoring bias
Enhancements to pattern matching allowing users to match a contextual search to either user or device, allowing the tracking of user- or device-based behavioral patterns
Updates to search by time of day, date/time range, while adding severity and facility of messages in a single query
New "list management" functionality allowing a user to configure macros of long lists of terms that can be maintained and referenced in a rule.
"There are some significant enhancements in 5.1 that originated from a multitude of sources," said George Faucher, CorreLog president and CEO. "This release is the culmination of requests from our user community as well as feedback received from leading analyst research firms."
The release of CorreLog Enterprise Server 5.1 kicks off what Faucher sees as year of growth for the Naples, Florida-based independent software vendor. In the past 3 months CorreLog has added channel managers in North and South America and finalized partner signings with software vendors Solutionary (cloud-based managed security services) and Fixmo (mobile device risk management). In May of 2011, CorreLog secured a spot on Gartner's SIEM Magic Quadrant and was also awarded a 5 Star SIEM solution rating by Secure Computing Magazine.
"2011 was a foundational year for CorreLog," added Faucher. "The work we have completed recently…adding partners, channel managers and a vice president of product management… these are all things to position the company for the exponential growth we anticipate in 2012."
About CorreLog:
CorreLog, Inc. delivers security information and event management (SIEM) combined with deep correlation functions. CorreLog's flagship product, the CorreLog Security Correlation Server, combines log management, Syslog, Syslog-NG, SNMP, auto-learning functions, neural network technology, proprietary semantic correlation techniques and highly interoperable ticketing and reporting functions into a unique security solution. CorreLog furnishes an essential viewpoint on the activity of users, devices, and applications to proactively meet regulatory requirements, and provide verifiable and actionable information. CorreLog automatically identifies and responds to network attacks, suspicious behavior and policy violations by collecting, indexing and correlating user activity and event data to pinpoint security threats, allowing organizations to respond quickly to compliance violations, policy breaches, cyber attacks and insider threats. CorreLog provides auditing and forensic capabilities for organizations concerned with meeting SIEM requirements set forth by PCI DSS, HIPAA, SOX, FISMA, NERC, NCUA, and others. CorreLog markets its solutions through both direct and partner channels.
Copyright © 2012, CorreLog, Inc. All rights reserved.
All trademarks and registered trademarks used herein are the properties of their respective owners.
###