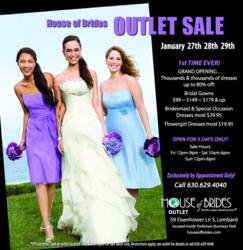 President Eva Buziecki commented, "We anticipated excitement about the opening but didn't expect as large or fast of a response as we've had."
Lombard, Illinois (PRWEB) January 24, 2012
Customers have been calling for appointments since the announcement was released early Monday morning. House of Brides President Eva Buziecki stated that by the end of yesterday, appointments were nearing capacity for the Outlet sale Friday, Saturday and Sunday. Eva Buziecki commented, "We anticipated excitement about the opening but didn't expect as large or fast of a response as we've had."
The consumer excitement is well deserved. The 20,000 square foot location boasts wedding and special event apparel, accessories and products up to 80% off original prices. Designer wedding dresses are priced $99, $149, $179 and up. Thousands of bridal gowns in a wide array of styles, colors and sizes are available for sale off-the-rack.
Most bridesmaid dresses are $29.95. The selection includes a variety of colors and sizes and includes single dresses and dresses for complete wedding parties.
Special occasion and cocktail dresses are also on sale with most $29.95. Most flowergirl dresses are $19.95. Other products such as bridal headpieces, shoes and accessories are available at drastically reduced prices.
The retailer knows the pricing is the major incentive to today's budget conscious customer. Consumers have curtailed their retail dollars due to the current economy. However, consumers within the wedding industry face a spending dilemma in choosing the wedding they want and the wedding they can afford.
The Research and Development team analyzes buying patterns and noted brides showing growing interest in budget-friendly designers and collections. This influenced the opening of the new location. Industry Consultant Dale Buziecki explains, "Success as a retailer is when you can meet the needs of your customer. House of Brides tailors its service and selection to their customer and what the customer wants now."
The Outlet is located at 59 Eisenhower Lane South in Lombard, Illinois inside the Yorktown Business Park. The dresses and products are unique to the new location and not available at any other House of Brides location.
The Outlet sale is exclusively by appointment and appointments are kept to 1-hour only. The retailer decided to limit the number and duration of appointments to maintain the customer experience.
All apparel and products are selling for immediate purchase only. Customers purchase and take merchandise with them on a "cash and carry" basis. Cash, debit and credit cards will be accepted. Special order merchandise is not available at the Lombard location.
House of Brides bridal salons are hosting a separate 2-day sale predominantly on special order wedding and bridesmaid dresses. The Bridal Sale is Saturday January 28th and Sunday January 29th. Appointments are suggested and customers are directed to the Locations & Hours page on their website to find the nearest salon http://www.houseofbrides.com/TourOurStores.aspx.
The selection and prices are different between the Outlet and salons. Only the Lombard location offers 80% off original prices on immediate delivery merchandise.
The Outlet is open 3 days only Friday January 27th, Saturday 28th and Sunday 29th. The sale is available at the Outlet location and not available at House of Brides salons.
Sale hours are Friday 12pm – 9pm, Saturday 10am – 6pm and Sunday 12pm – 6pm. The sale is exclusively by appointment only. Walk-in customers will not be accepted. Appointments are 1-hour. Customers can call 630-629-4040 to make an appointment.
For appointment and location information, view the Grand Opening ad http://www.houseofbrides.com/t-storesales.aspx.
President Eva Buziecki strongly suggests customers make an appointment as quickly as possible to ensure availability.
About House of Brides:
House of Brides established its first brick-and-mortar store in 1929 and has since grown to 10 Chicagoland stores and global E-Commerce website, http://www.houseofbrides.com. Millions of Brides and their wedding parties visit the salons and global website for over 30,000 wedding and special event products.
###