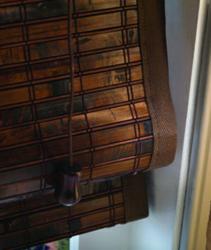 Castle Rock, Colorado (PRWEB) January 26, 2012
Shades Shutters Blinds has announced the release of a new product line. The company is now offering a wide selection of woven wood blinds. This item is available through their online store with several options available.
Shades Shutters Blinds has been selling quality window treatments on the internet since 2001. Thousands of orders have been placed and filled throughout the United States due to the company's commitment to affordable products and how easy it is to place and receive an order.
The new woven window shades are available in a variety of colors, which the customer can customize. Customers can choose from the bamboo, band edging and fabric backing collections. Customizing the blind is available as well. Those looking for additional privacy can add the woven wood backing and those looking to modernize their treatments can add a remote control. Fabric accents can be added as well as different options to control how the blinds are opened. The woven window blinds are available in the inside and outside mount options.
Each blind is made to order and can be completed in about a week. The company offers free samples in order for the customer to choose the right style and color for their room. The easy to use quick quote feature can give an estimate based on the size of the shades needed.
A company spokesperson stated, "This new product line will give our customers more options for their windows. The spokesperson went on to add, "We continue to offer our live phone service during operating hours, secure internet access and a quick response to any questions".
Shades Shutters Blinds is a member of the Denver/Boulder Better Business Bureau and urges customers to visit their website and read what customers have to say. Anyone interested in purchasing woven window blinds will also find easy to follow tips on installation as well. For additional information and pricing regarding woven window blinds, please visit Shades Shutters Blinds.
###