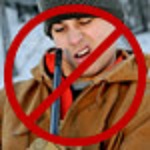 Austin, TX. (PRWEB) January 25, 2012
Preparedness is a major key for survival when hunting, Absolute Rights understands, that is why Absolute Rights spent countless hours researching the best hunting practices. Then Absolute Rights began to sift through all the research and information that was gathered, looking for the core pieces that were important for hunting preparedness. Absolute Rights took all that information they had condensed to make up the Ten Hunting Commandments, for hunters to use as reference material.
These Ten Hunting Commandments make a great emergency management resource, says Absolute Rights, because even though most of them come down to common sense it is always better to be safe than sorry. Absolute Rights says, the Ten Hunting Commandments should be reviewed every time a person prepares for a hunting expedition, or when they are going to use any of their hunting equipment, especially weapons.
Absolute Rights feels with spring quickly approaching and warmer weather ahead, no time is as good as the present to go over the Ten Hunting Commandments safety rules. Though most, if not all, of the Ten Hunting Commandments are common sense for most hunters, it never hurts to retrace safety steps before heading out hunting, remarks the Ten Hunting Commandments.
Here are the Ten Hunting Commandments:
1) Always keep the muzzle pointed in a safe direction and away from people.
2) Keep firearms unloaded whenever they are not in use.
3) Don't rely on a gun's safety.
4) Be sure about where the target is and what lies beyond it.
5) Use the proper ammunition for the occasion.
6) If the weapon fails to fire when pulling the trigger, handle with care. (refer to the previous Absolute Rights newsletters for more instructions)
7) Always wear ear and eye protection when shooting.
8) Be sure the barrel is clear of obstructions before firing.
9) Do not alter or modify a gun and have it serviced regularly.
10) Learn the mechanical and handling characteristics of the firearm being used.
Subscribe to the Absolute Rights newsletter to stay continually updated and informed by the Absolute Rights broad panel of experts, on subject matter ranging from legal challenges to survival techniques, from macro-economics to the best way to buy and sell gold, and everything in between.
###