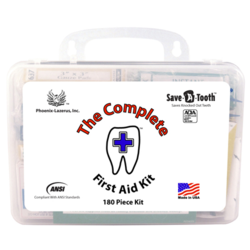 If a family, school or business facility is looking for the best first aid kit available, then the Complete First Aid kit is what they should buy
Pottstown, Pa (PRWEB) January 25, 2012
Most people agree the Complete First Aid kit (http://www.amazon.com/gp/top-rated/hpc/3762881/ref=zg_bs_tab) is a good value since the Complete First Aid kit is now the highest rated first aid kit on Amazon.com. "Amazon.com is the embodiment of free market product voting in the world", Dr. Krasner goes on to say. "Since anyone in the world can view any product and evaluate it independently without advertising, people will choose the product that they feel is the best and gives them the best value. Achieving the highest rating on Amazon.com says something about the quality and value of the Complete First aid kit." Another reason is that it is the only first aid kit that has a Save-A-Tooth® (http://www.saveatooth.com/).
When asked why the Complete First Aid kit (http://www.Completefirstaid.net) has risen so high in the ranking, Dr. Henry Rankow, Professor of Dentistry at Temple University, School of Dentistry and diplomate of the American Board of Endodontics responds, "people realize what a great value the kit is. Many people do not realize that knocked out teeth can be saved. When they find out that if they have a Complete First Aid kit, over 90% of knocked out teeth can be saved. A purchase of only $25 can save $4000 initially and over $30,000 over a lifetime.
All knocked out teeth can be saved but they must be treated within the first hour of the accident. That's why Save-A-Tooth® systems are such an essential part of every first aid kit. When an accident occurs such as an automobile accident, there are often more serious injuries like punctured lungs and broken legs. Saving knocked out teeth is a low priority but in the long run not reimplanting them can ultimately be more costly than either of the more serious injuries. "Broken bones and punctured lungs heal without any serious long-term consequences," says Dr. Krasner, but four lost knocked out teeth will have life-long consequences. The cost to replace four teeth is easily $16,000 initially and $60,000 over a lifetime. So having a Complete First Aid kit with a Save-A-Tooth® in the car trunk can be a invaluable component to have available."
In addition to the Save-A-Tooth®, the Complete First Aid kit contains all of the essential first aid kit essentials like adhesive bandages, burn cream and antiseptic wipes but it also contains rarely found items such as a thermal blanket and glow stick. What makes it such a great value is the Save-A-Tooth® system
"Some people think that milk is a good medium for storing knocked out teeth", Dr. Rankow goes on to say. "This was true thirty years ago but there is a new, more advanced technology that has replaced it. Most people don't know that there is a better way to store knocked out teeth than milk."
The Save-A-Tooth® system is so medically and scientifically advanced that it is used to transport dental stem cells destined for cryopreservation and future medical and dental disease treatment. It is contained in the Store-A-Toothtm (http://www.store-a-tooth.com) system, the leading method in dental stem cell transportation and cryopreservation. "We chose the Save-A-Tooth® as part of our system because it was quite simply the best method of transporting teeth, says Peter Verlander, PhD. and Chief of Scientific Development at Provia, Inc. It is the only device that has the American Dental Association Seal of Acceptance. It is one of only 300 non-dental products to receive this prestigious seal."
Dr. Rankow recommends that every home, car, school and ambulance should have a Complete First Aid kit available to help save the over five million teeth that are knocked out each year.
###