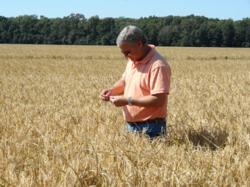 X-Cyte's outstanding ability to meet the challenges of high heat conditions is unlike any other product in the field.
Gregory, AR (PRWEB) January 25, 2012
Arkansas farmer Perry Galloway experienced an 11 bu/ac increase after treating rice crops with Stoller's new proprietary cytokinin formulation, X-Cyte™. Designed to enhance pollination in high heat conditions, X-Cyte allowed Galloway's rice to flourish in temperatures as high as 100 degrees.
Galloway's farming operation, located in east central Arkansas, includes 8,000 acres of corn, rice, cotton and soybeans. In addition to his impressive rice yields, Galloway placed first and third in the 2010 NCGA Irrigated Arkansas at 261 and 243 bu/ac, respectively. In 2011, Galloway won the full season soybean division (Arkansas Soybean Association) with 84 bu/ac and placed second and third in the NCGA Irrigated Arkansas with 259 and 239 bu/ac. With the high temperatures and sandy loam soil in Arkansas, Galloway can rely on crop stress as a yield-inhibiting factor each year.
"I was impressed with Stoller Technology's ability to maintain and even improve overall crop health." explained Galloway. "We decided to test X-Cyte on a 40 acre field of rice. We applied it with our insecticide so it was easy…and with over 10 bushel per acre increase it proved to be very effective."
Galloway used a pint of X-Cyte per acre one week prior to heading. The product was applied to half of an 80-acre field and was added to the tank mixed with insecticide. He planted mid-May and applied X-Cyte in August. At the plant level Galloway noted increased root mass and stronger greener stalks. Calculating the product's impact on his bottom line, Galloway estimated a 7 to 1 ROI.
"X-Cyte's outstanding ability to meet the challenges of high heat conditions is unlike any product in the field," stated StollerUSA General Manager Dr. Wayne Smith. "We see dramatic results anywhere extreme heat conditions are prevalent."
StollerUSA is dedicated to helping producers enhance yields by maximizing genetic expression. The result is enhanced marketable yield, improved return-on-investment and improved tolerance to disease and other stress. Only Stoller products contain Stoller's proprietary technology that is proven to ensure optimum plant growth by maintaining appropriate hormone balance in combination with supporting nutrients. Validated by Universities nationwide, Stoller's unique formulations result in healthier, more productive crops that are better able to withstand stress and achieve their full genetic potential.
About StollerUSA
Celebrating over 41 years in agribusiness, StollerUSA markets a full line of products to help farmers increase crop yield and quality. StollerUSA, headquartered in Houston, is actively engaged in basic and practical research to enhance crop productivity in more than 50 countries.
###