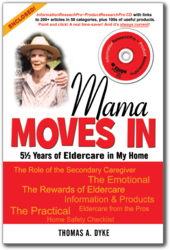 As Dyke finished up his interview, he said, "Getting to collaborate with churches doing the Lord's work is exhilarating."
Austin, Texas (PRWEB) January 25, 2012
Dyke Publishing Company is pleased to announce that Mama Moves In and its website, dykepublishing.com, have been included as "Resources for Caregivers" as a part of Randall Murphree's article, "Heroes at Home", in the February 2012 issue of the AFA Journal (http://www.afajournal.org). Murphree's article is about Elizabeth and Dick Peterson, a couple who wrestled with the advent and progress of Elizabeth's multiple sclerosis as well as the demands on the caregiver and the care recipient.
New statistics tell the story about demand for caregiving (National Family Caregivers Association):

65 million Americans (29%) are caregivers spending an average of 20 hours per week caring for a loved one.
70 million Americans will be age 65 or older by 2030.
34 million American adults (16%) provide care to adults 50+ years of age.
66% of caregivers are women caring for widowed mothers.
51% of care recipients live in their own homes.
30% of family caregivers are themselves age 65 or over.
As part of its participation with family-oriented non-profits involved with protecting and maintaining traditional family values across the United States, Dyke Publishing offered its collaboration to the American Family Association as an example of what a team effort can accomplish. Randall Murphree's article highlights one of American families' greatest challenges—in-home caregiving for family members with serious medical challenges. Dyke Publishing offered its book, online databases and "tips" to help families prepare for and better cope with caregiving.
With the demand for caregiving on the rise, Dyke Publishing announces its offer to collaborate with churches and traditional, family oriented organizations to promote inter-family caregiving. Mama Moves In is offered for the expressed goal of making eldercare available to as many prospective and existing caregivers as possible. Additionally, DykePublishing.com announces that caregivers can use its website to get the latest news and information about eldercare and communicate with each other anonymously.
Dyke Publishing Company is a hard copy and digital publisher located in Austin, Texas. The company focus is elder care. For more information about the company and its owner, see the files available on the right side of this page.
# # #