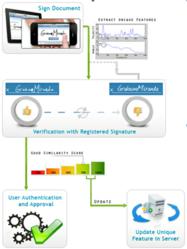 "SutiDSignature, a biometric dynamic signature authentication solution, sets us apart from other solutions by providing robust verification through matching a large number of signature characteristics." - said N.D. Reddy, founder and CEO of SutiSoft, Inc.
Los Altos, CA (PRWEB) January 25, 2012
SutiSoft Inc., a trusted provider of Software as a Service (SaaS) and enterprise solutions, today announced the release of SutiDSignature 1.0, its web-based/enterprise signature verification solution to authenticate users of signature based approvals with their handwritten signature.
Users register one or more signatures using their Smartphone/Tablet device. SutiDSignature captures over 13 unique parameters from a user's signature and stores them in the database. If enabled, users would need to sign on a mobile device and tablets. Parameters from the signature are extracted and authenticated with the already stored templates in the database. Based on a defined threshold point, users are authenticated or rejected based on a 99.8% degree of accuracy.
SutiDSignature has options for gradual learning so that the signature template is created over a period of time by examining the variations and adjusting parameters to the templates. SutiDSignature uses a "best-in-class" algorithm for extracting and matching the templates.
For more information, please visit http://www.sutidsignature.com
About SutiSoft Inc
SutiSoft Inc. is a privately held company founded by N.D. Reddy, a successful Entrepreneur with over 30 years of experience in both the Hardware and Software industry as a Founder, and CEO. The Company's leading edge enterprise/SaaS application software products range from business productivity solutions such as Electronic Signature, Expense Management, Document Control Systems, Governance, Risk and Compliance, Security Solutions and others. The company's products are developed using Java, Flex, AJAX, HTML5 and other cutting-edge technologies which allow SutiSoft to retain its core values which are Simple, Scalable, Secured, and Seamless. Headquartered in Los Altos, California USA, SutiSoft has offices in Northern California, India, Germany and Japan. Additional information is available at http://www.sutisoft.com.
###