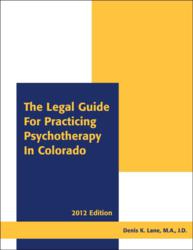 The essential legal resource for all Colorado therapists!
Denver, CO (PRWEB) January 26, 2012
The new 2012 "Legal Guide for Practicing Psychotherapy in Colorado" provides a comprehensive description of the Colorado statutes that pertain to mental health professionals in the areas of malpractice and professional liability, recordkeeping requirements, licensing considerations, business concerns, and important ethical issues.
This book gives psychotherapists specific examples of how Colorado laws affect their practice, with advice on how to stay in compliance with legal and ethical mandates. In addition to citing state and federal court cases relating to mental health professionals, the book tracks the latest statutory developments in Colorado to keep readers up-to-date on the law and legal terms used in this area. The author gives practical tips about maintaining and releasing client information, standards for clinical supervision, and selecting a business entity that minimizes personal liability.
The author of "The Legal Guide to Practicing Psychotherapy in Colorado, Denis K. Lane, M.A., J.D., updates the publication annually. Some new things to look for in the 2012 edition are: Revised Standards for Child and Family Investigator's(CFI's) and revisions to Chief Justice Directive, CJD 04-08, effective 11/30/11; New Client Disclosure Statement form, which complies with legislative changes made in 2011 regarding mandatory disclosures to clients; information regarding compliance with the legislative changes in 2011 to the Prohibited Activities Statute; information concerning best practices for billing; information concerning Continuing Education Units (CEUs) and required professional development activities for 2012; recordkeeping requirements and practices compliant with HIPAA standards; and best practices for risk prevention and compliance with ethical standards.
About Bradford Publishing Co.
Founded in 1881, Bradford Publishing Company is Colorado's oldest and most trusted publisher of legal information, including legal forms, electronic legal forms, law books, and Colorado statutes. With a retail store and offices in Denver's historic LoDo district, Bradford Publishing provides legal forms and reference materials on a variety of legal topics for attorneys, other professionals, and consumers.
Their commitment to quality is the cornerstone of Bradford's business philosophy and they regularly update the content of their books and other publications, so consumers can rely on the most accurate and current information available.
###