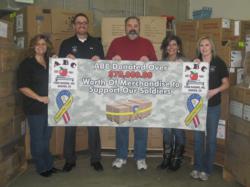 "We are honored to support this worthy cause that gives to the people who sacrifice so much for this great country." Says Patrick Anderson a Manager at ABC Fund Raising Inc.
Denver, CO (PRWEB) January 26, 2012
This past fall during elementary fund raising season. ABC Fund Raising Inc offered parents an opportunity to donate money to the Yellow Ribbon Support Center, in addition to the normal cookie dough, wrapping paper and chocolates. "The response from Colorado families for the troops was overwhelming. It was the #1 item purchased this fall."
The Yellow Ribbon Support Center was founded after SSgt Matt Maupin went missing to keep his face in the conscience of those most able to find him, his brothers and sisters in arms. Care packages, plastered with Matt's picture were sent to soldiers in hopes that someone, somewhere might have information about his whereabouts.
The community grew and the need for some of the basic necessities for our troops became apparent. While focus never wavered from discovering Matt's fate, the Yellow Ribbon Support Center was soon sending packages to any soldier's unit whose family supplied the center with an address. To date, more than 17,500 packages have been sent to Iraq, Afghanistan and Africa.
According to Brian Binn, President of Military Affairs for the Colorado Springs Chamber of Commerce. There are 6 military bases in Colorado, five of them Air Force bases. The sole Army base is Fort Carson, also known as the Mountain Post. Between all of them, there are over 62,000 active duty, reservists, and government contractors employed. Colorado Springs is one of the leading retirement locations for all branches of the military. In fact, Colorado is the 6th most popular destination in the world with 48,672 retired military living in the state.
"It seems like everyone in Colorado is connected to the military in one way or another" says Patrick Anderson Manager at ABC. "This is why we think the program did so well." Top contributors from around the state were: Roxborough Elementary of Littleton who gave $1,560.00, Clear Sky Elementary of Castle Rock gave $1,500.00, Legacy Elementary of Frederick gave $1,380.00, Arapahoe Ridge Elementary of Westminster gave $1,060.00 and James Irwin Elementary of Colorado Springs gave $880.00.
About ABC Fund Raising Inc.
Founded in 1991, ABC Fundraising Inc. was started by Stu Nickell who saw how hard his wife was working as the PTA president running the cookie dough fundraiser at their kids school. He thought there has got to be a better way. Over the past 21 years, ABC Fund Raising Inc has focused on service, large selection of quality products and raised over $35 million dollars for local schools.
###