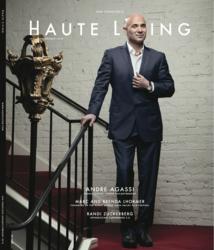 I started helping children in a lot of ways because I felt bad for children that didn't have opportunities
(PRWEB) January 25, 2012
Eight-time Grand Slam winner, Olympic gold medalist and all-around tennis legend Andre Agassi is the star of Haute Living Magazine's upcoming San Francisco publication to be released Feb. 15. In the exclusive interview, Agassi let Haute Living into his world as a philanthropist and highlighted his partnership with luxury Swiss watchmaker Longines.
The feature also provides a comprehensive review of a recent charity event hosted at the Stanford Shopping Center by Agassi, Longines, and jeweler Shreve & Co on Nov. 30, 2011.
"I started helping children in a lot of ways because I felt bad for children that didn't have opportunities, or that didn't have a life that they could choose for themselves," said Agassi in the interview.
Agassi's foundation—the Andre Agassi Charitable Foundation was founded in 1994. Since its inception, it has raised $177 million towards education projects.
Swiss watchmaker Longines also has a deep history of community involvement and has served as a productive partner for Agassi via the Longines Elegance Scholarship Fund. Both Agassi and his wife, and tennis star in her own right, Stefanie Graf are Longines Ambassadors of Elegance.
"My mission has taken on a bigger national platform. We're starting to build schools across the country and affect tens to hundreds of thousands of more lives. We've green-lighted ten schools that will be open next August. We'll open about 75 more over the next three years," said Agassi of the foundations notable feats.
"Giving back to the community was a given for me. The question was how much I could be able to give back. To get into education has surprised me, because who would have thought that an 9th grade dropout would ever build a school, let alone hopefully build hundreds," said Agassi.
Haute Living Magazine is a national luxury lifestyle magazine published in four markets—New York, Miami, Los Angeles, and San Francisco. Haute Living Magazine features the top entrepreneurs, businesspeople, and notables in each market. Haute Living Magazine also highlights the best in luxury consumer goods, culinary hot spots and events. Haute Living recently redesigned its website and re-launched its Haute Time (http://www.hautetime.com) and Haute 100 (http://www.haute100.com) websites for state-of-the-art experiences.
For more information, please visit: http://www.hauteliving.com.
###