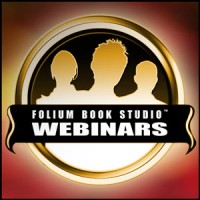 "We are helping everyone from the novelist to the genealogist. With regularly scheduled educational outreach programs, we are meeting the authors and providing them with self-paced resources. "
Ashland, OR (PRWEB) January 26, 2012
Folium Partners, Inc. will offer free Folium Book Studio™ training sessions on Cisco® WebEx® beginning Tuesday, January 31, 2012. The limited-seating web seminar sessions are open to independent writers and publishers interested in learning more about new industry options for e-book layout design, cover art design, and EPUB format conversion. Prior to the launch of Folium Book Studio, these parts of the e-publishing process have been difficult and expensive for authors and small-to-medium publishers to accomplish.
The company will also demonstrate the ease of use and professional quality of its new Folium Book Designer™ and Folium Cover Designer™ software. The service soon will introduce an online image gallery for customers who choose to also create e-book cover art, as required for e-publishing. Plans are in place to add new art components weekly, making it easier and more fun for authors to create the perfect look for their book projects and manage their own images.
"A million writers will self-publish their works over the next few years. They all seek high-quality, low-cost options to get their books properly formatted and distributed to digital devices worldwide," said Jay Tapp, Chief Strategy Officer and co-founder. "Authors cannot distribute a book without cover art. Right now, Folium Cover Designer is included as part of our $79 introductory price. We've heard from the writing community that they crave this type of DIY approach, which will save them as much as $1,000 over other options. With all of our online tools and the new gallery, the process can take as little as 90 minutes to create a beautifully designed book with cover art that an author would be proud to show."
The Folium Partners team is building strong relationships with independent writers as more and more authors shift to the self-publishing model. According to industry statistician RR Bowker, over 750,000 books were published independently in 2010.
"Writing is the difficult part, so layout and format conversion ought to be easier. While there is a tidal wave of e-book services popping up, no other company offers to engage directly with authors as they work through their own process," added John H. Lee, CEO and co-founder."We are helping everyone from the novelist to the genealogist. With regularly scheduled educational outreach programs, we are meeting the authors and providing them with self-paced resources. Folium Book Studio supports the creative drive and does not cut off distribution paths or demand a share of revenues."
Earlier this year Folium Partners Inc. launched the first phase of the innovative self-publishing toolset that instantly converts manuscripts into the digital formats required for electronic books (e-books) such as the Apple® iBook®, Amazon® Kindle™, Barnes & Noble® Nook™ and Sony® Digital Reader®.
Folium Book Studio gives self-publishing authors and tens of thousands of small-to-medium size publishers the ability to instantly upload manuscripts into an easy-to-use, online app that translates Microsoft® Word documents and other word processing formats into complete digital works ready for distribution.
Authors and publishers simply go to the secure site, create an account and select a service. Folium Book Studio not only converts manuscripts into the proper EPUB format, its other tools design the book layout, create cover art, and support photos and illustrations uploaded directly from the author's computer. All work can be reviewed and edited multiple times directly in the WYSIWYG editor. The finished product can be exported for distribution or saved securely online for a year. The service offers a free ISBN for those who require one.
Folium Book Studio makes it possible to publish digital works quickly and easily, saving authors and publishes hundreds of dollars compared to current e-publishing methods.
Visit http://www.FoliumBookStudio.com for more information, the upcoming webinar schedule, and registration. The company will also present its online tools at the 2012 San Francisco Writers Conference, February 16–20.
# # #