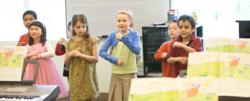 Our new singing classes are a strong addition to our core Yamaha music courses. - Jim Keenan, Yamaha School Director
Lexington, MA (PRWEB) January 25, 2012
Yamaha Music School of Boston is launching new singing lessons starting in the spring 2012 semester. For children ages 8-12,'Foundations of Singing' is a group class that focuses on the healthy development of the young voice within the context of a comprehensive music education. Designed and taught by Susan Larson, 'Foundations of Singing' is an ideal class for beginners and students with music training. The class is scheduled for Thursdays at 4:00pm.
Specializing in jazz and contemporary music styles, newest faculty member Jihye Kim is offering singing lessons for student's ages 13 through adults. For beginners through advanced, the lessons are one-on-one sessions where students learn to find and beautify their natural singing voice. Students can take either 45 or 60 minute lessons on Thursday, Saturday, or Sunday.
Classes are forming and space is limited. For more information, prospective students can sign up for a free trial class here. or call 781-274-7100.
Inspire • Play • Create
For 50 years, over 5 million families worldwide have trusted Yamaha Music School to inspire a lifelong love and appreciation for music learning, playing, and creative expression.
Featuring innovative lessons for children through adults, Yamaha's programs are designed to meet the unique needs and abilities for beginner through advanced students. The method combines a comprehensive curriculum with a fun, engaging classroom environment to promote a strong, well-rounded educational foundation.
###