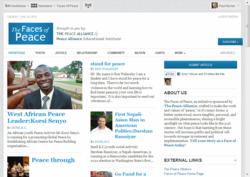 Kontribune's combination of social media and citizen journalism allows to engage with our members at a whole new level
San Rafael, California (PRWEB) January 26, 2012
Kontribune today announced that The Peace Alliance, an international non-profit organization dedicated to peace-building in all aspects of society, has chosen the Kontribune Engage™ community publishing platform to create and publish their online member-stories project, The Faces of Peace.
"We chose Kontribune Engage after looking at other newsletter publishing solutions on the market," said Judy Kimmel, Chairman of the Board of the Peace Alliance. "However, none of them measured up to Kontribune for our requirements. We found that Kontribune's combination of social media, community building, and citizen journalism allows us to engage with our members at a whole new level."
"We are thrilled to have vibrant communities such as Faces of Peace discover that they can engage with their members in ways not previously possible," said Paul Remer, co-founder of Kontribune. "It has been particularly gratifying to see users from all over the world publish their photos and stories about what they are doing to promote peace. And Kontribune Engage is just the beginning: we are creating a whole line of products designed to help communities thrive."
The Faces of Peace newsletter can be accessed at fop.kontribune.com
Pricing and Availability
Kontribune Engage is available immediately. Pricing, functionality, and company details can be found at http://www.kontribune.com.
About Kontribune
Kontribune believes that communities are fundamental in giving us deeper connections to our families, schools, spiritual centers, and others who share our special interests. At Kontribune, our goal is to help communities thrive by providing them with easy-to-use tools that allow them to inform, engage and inspire their members.
Kontribune Engage gives users the ability to generate professional-looking online newspapers and newsletters, use rich media to enhance their publications, and rank, monitor and moderate content. The product also provides users with the ability to customize their publications and employ comprehensive user management and security features. Engage features a built-in ad server that enables users to easily place display advertising, driving revenue for community groups. Additionally, the platform features extensive social media integration with Facebook and Twitter for viral sharing of community content.
###