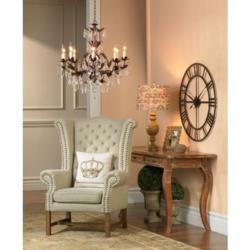 The hot decor trends for 2012 range from the casually elegant to world influences to contemporary looks with clear glass.
Chatsworth, CA (PRWEB) January 31, 2012
Home decor trends for 2012 are dramatic, colorful and certain to grab attention. The interior design staff at Lamps Plus, the leading online home decor and lighting store, offer the following trend setting looks for 2012 along with suggestions for getting the look in your home by just adding a few key elements. Here are their favorite new trends:
French Market – Casual Elegance
First up on the hot list is the French Market look. Inspired by French and Continental European influences, this style places an emphasis on informal simplicity and casual elegance. Designers use authentic flea market or antique finds, from antique side tables to vintage post cards and fabrics. But you don't have to go to a marche aux puces (fancy French for a flea market!) to achieve this look. Notes Lamps Plus Style Illuminated blog writer and designer Michael Murphy, "While you can always find time-worn antiques to use, these days you can also find plenty of new designs that feature the worn and weathered look that's key for this style. From pillows to table accents and furniture, there is a wealth of vintage market available."
Here are some designer insider-tricks to achieve the French Market look in your home.

Choose furniture pieces that have classic lines.
Select natural fiber fabrics.
Incorporate organic wood elements.
Global Chic – the World Travelled
For those who want to roam the world in search of inspiration, the romance of travel and far-flung destinations is at the heart of the Global Chic look, a contemporary blend of decor that reaches beyond the horizon. The Global Chic look mixes vibrant colors, textured fabrics and global accessories, like table lamps, pillows and fabrics, to create a world traveled exotic mood and collected look. Use exotic materials like faux snake skin along with leathers and ceramics to add texture to a room. Says Lamps Plus designer Marcia Prentice, "With global style resources at your finger tips, you can create a world traveled look without having to step outside your door. I like to use ethnic patterns and motifs on decorative pillows and throws to add that world collected look."
Here are a few more key designer elements to add when creating the World Traveled look.

Introduce exotic, colorful patterns on pillows and throws.
Use wood accent tables.
Feature unique ethnic sculptures made from reclaimed wood.
Clarity Contemporary - Less is More
As in past years, clean and contemporary is in. But, notes Michael, "What's different this year is what we're calling 'Clarity Contemporary', which is the use of contemporary accents and furniture that comes in clear glass or other translucent materials." Just one piece of clear furniture or a lighting element will add a crisp, contemporary touch. "I love using translucent materials like acrylic, glass or crystal in a room. It creates an environment that looks always looks sleek and modern and up to date." Look for coffee tables, end tables, table lamps or, for a bigger impact, a clear glass chandelier. Accent the clean simplicity of these items with textured accents like inlay ceramics or hand-carved wooden pieces.
To achieve the Clarity Contemporary look consider adding one of the following designer pieces.

A dramatic, clear glass or acrylic ceiling fixture.
Contemporary glass dining tables or side tables.
These are all visually interesting, colorful and dramatic new looks for the year. Notes Marcia, "All three of these home decor trends for 2012 are easy to achieve at home with just a few new pieces or accents." For more inspiration, browse the Lamps Plus Shop By Room picture gallery of interior decorating ideas, or read the Style Illuminated decorating blog for daily posts on trends, celebrity designer interviews and more.
About Lamps Plus
For over 30 years Lamps Plus has been synonymous with excellence in the lighting retail industry. Established in 1976, Lamps Plus is the nation's largest specialty lighting company, with over 40 superstores throughout the western United States. Together with their retail stores and online business, Lamps Plus serves over five million customers each year with the largest selection of functional and decorative lighting fixtures, accessories, furniture, and home decor. This selection includes hundreds of products available exclusively from Lamps Plus. Services include free in-home lighting consultations, in-store lighting seminars and installation from expert, licensed electricians. American Lighting Association certified lighting designers are available to offer product recommendations and advice in all our stores, by phone or online at Lamps Plus. Please contact PR(at)LampsPlus(dot)com for more information.
###