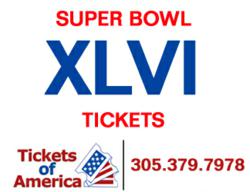 Miami, Florida (PRWEB) January 25, 2012
Super Bowl XLVI - NY Giants vs. NE Patriots in Indianapolis:

Face value $900
Prices started $2750
Lower 15yd line $6500
30 person Catered luxury suite start at $540,000
Rematch- Four years later is it the economy that's improved? Is it because the same two east coast teams are playing closer to home and therefore have caused such a high demand on premium seats?
Answer- Corporate spending was down in 2008 within the financial markets of Boston and New York along with the long cross country travel drove the Super Bowl prices to record lows in Arizona. Unfortunately, a severe global financial crisis, along with the real estate markets collapse, and far travel distance to a west coast Super Bowl in 2008 helped cause largest percent price drop since 2002 after 9/11. Major factors have affected the corporate spending 08 vs. 12.
1) Prior to 2007, Corporations allocated funds a year or two in advance and purchased Super Bowl packages 6 months prior to event (tickets, hospitality, hotels, parties, etc.)
2) Post late 2008 financial crisis, Corporation's executive/employees are terrified of being seen at the Super Bowl or staying in luxury hotels when many of these firms' stock prices have dropped 70-80 percent in value or received government stimulus money. Now Hollywood and famous Hip Hop Stars spend on premium seating opposed to corporate America.
3) Sizzling Hot '12 New York Giants v. '12 New England Patriots (major financial markets have rebounded financially and dramatic storyline of underdogs Giants upsetting then undefeated Patriots demands a rematch similar to Ali v Frazier fight)
4) In 2008, Corporations were liquidating their positions by selling suites and tickets in an attempt to recoup previous budget outlays or prior sponsorship deals which is causing an excess supply on the market place. Today, Lucas Oil Stadium has record retail priced suites fetching on secondary markets over half million dollars. Lucas Oil Stadium has 144 suites versus Jerry's World Cowboy Stadium which offered over 200 luxury suites causing a shortage in supply. Second, New York and Boston are major markets that demand more premium seating opposed to blue collar cities from last year's Super Bowl Green Bay and Pittsburgh.
Starting Super Bowl Ticket Prices highs / lows since 2000 (Upper Level End Zone "least expensive seats" only.)
(prices courtesy of http://www.ticketsofamerica.com)
2000 Titans vs. Rams in Atlanta High $1500 Low $800 "ICE BOWL no fans could drive or fly into Atlanta causing prices to drop.
2001 Ravens vs. Giants in Tampa High $3500 Low $1250 "Biggest gain due to many brokers taking short orders and New York market drove prices to all-time highs day of the game.
2002 Pats vs. Rams in New Orleans High $2000 Low $200 "UNDER FACE Value post 9/11 Super Bowl and fans were terrified to travel and scared of terrorist threats.
2003 Bucs vs. Raiders in San Diego High $2300 Low $1100 "Biggest 1 day drop Wed. prior to Super Bowl because Raider Owner Al Davis dumped 5,000 seats on the secondary market all at once.
2004 Pats vs. Panthers in Houston High $2750 Low $1100 "Strong local economies in Texas and Mexico brought tons of buyers causing the biggest day of the game jump.
2005 Pats vs. Eagles in Jacksonville High $3750 Low $2300 "Strong teams and Philly fans drove in, Strong US economy, Florida Real Estate market booming, all time Super Bowl High.
2006 Seahawks vs. Steelers in Detroit High $3000 Low $2100 "Steelers Black/Gold easy 4 hour drive to Motown made prices strong in a very weak and depressed downtown area Host city Detroit.
2007 Colts vs. Bears in Miami High $3300 Low $1500 "Pouring rain drove day of the game prices to tank.
2008 Pats vs. Giants in Arizona High $3000 Low $1300 "Two East coast teams in weak corporate market in Phoenix. Ticket brokers predicted this Super Bowl market wrong pricing undefeated Pats against NY Giants at $3000 starting price which dropped continuously.
2009 Cards vs. Steelers in Tampa High $2200 Low $1100 "Steeler Nation drove prices up day of game again.
2010 Saints vs. Colts in Miami High $2000 Current Low $1450 "Will this be All time Low since 9/11 or Will Saints fans drive in this weekend.
2011 Steelers vs. Packers in Dallas monster $4000 upper level at kickoff "Jerry Jones allowed obstructed view seats sold which patrons were turned away at gate" Caused a massive demand at kickoff with all these disappointed fans looking to get in.
Michael J. Lipman
President/CEO
Tickets of America
Phone: (305) 379-7978
Fax: (305) 381-8872
http://www.ticketsofamerica.com
###