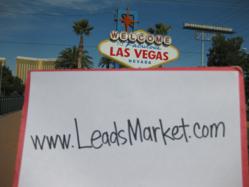 Las Vegas, NV (PRWEB) January 26, 2012
LeadsMarket.com founders are regulars at LeadsCon. They have attended LeadsCon since its inception. They exhibited at almost every event whether it was held in the east coast in New York or west coast in Las Vegas.
LeadsCon is the place to form new partnerships. It is like a Country Club for lead generation industry. LeadsMarket.com is open to new partnerships.
LeadsMarket.com believes in having prospering partners. Partners prosper with LeadsMarket.com. At LeadsCon affiliates and lead buyers can put themselves in the pipeline towards maximizing their revenue by joining forces with LeadsMarket.com.
Team of Internet Einsteins from LeadsMarket.com will be at booth # 219 ready to share skills and profit with potential partners.
Partners of LeadsMarket.com get more than the fare share of profits. For some verticals LeadsMarket.com is offering 90% of revenue to partners.
LeadsMarket.com offers partners benefits beyond belief. Yes, you can have your cake and eat it too. All thanks to company's proprietary technology called Optimo which offers publishers and buyers a competitive edge.
Optimo creates a win win opportunity for both lead sellers and buyers. Optimo's complex, secret algorithms optimize the lead generation funnel to provide lead sellers with highest payouts and provides top quality leads to lead buyers. Publishers and lead buyers can keep doing what they are doing, but make more money with LeadsMarket.com.
Leads marketing has a new home: LeadsMarket.com.
About LeadsMarket.com
LeadsMarket.com is a marketplace where lead sellers and lead buyers make so much money they need to call Scrooge McDuck to borrow his diving board.
Media Contact: Frank Kasimov
http://www.LeadsMarket.com
6130 Elton Ave Suite 386
Las Vegas, NV 89107
(888) 666-7058
###