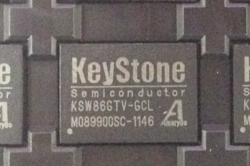 "KSW86GTC addresses the needs for today' navigation systems that can manage and process the much-needed real time mobility information matching the ITS Missions specified in Directive of European Parliament July 2010," said CEO, Ms. Wu, at Amaryllo.
Hsinchu, Taiwan (PRWEB) January 26, 2012
KeyStone Semiconductor Corp.(KeyStone), a fabless semiconductor developer of advanced digital radio technologies and Amaryllo, a leading dynamic traffic information technology company in the Netherlands, announced today that KeyStone's new single-chip FM/DAB/DAB+ receiver ICs, KSW86GTC and KSW86GTV to support TPEG/SLS/DLS/DLS+ for in-car and mobile navigation applications are now available for sampling. A live demonstration of this new novel technology will be held at 10 am on Monday January 30, 2012 at Amaryllo's headquarter in Almere, the Netherlands,
KSW86GTC and KSW86GTV are world's first single-chip FM/DAB/DAB+/DMB receiver ICs that embed Amaryllo's proprietary dynamic traffic management IP to support The Transport Protocol Experts Group (TPEG) in navigation systems. The Tsunami digital radio receiver IC is fully integrated with radio tuners, demodulators, audio decoders, DSPs, MCUs, DACs, flash memory, etc. and is housed in a compact 1.1 cm x 0.8 cm BGA package.
Amaryllo is awarded by Dutch government with its innovative Radio Dynamic Speed Advice (RDSA) project which brings traffic information transfer systems into Radio Data System (RDS) and TPEG applications. Amaryllo Dynamics, which is the world standard API, supports dynamic traffic information such as Traffic Message Channel (TMC), TPEG, and other proprietary protocols. Millions of navigation systems employing Amaryllo Dynamics are available in both commercial and professional markets.
KSW86GTC not only supports typical digital radio reception in DAB and DAB+ but also features Slide Show (SLS), Dynamic Label Segment Plus (DLS/DLS+), Electronic Program Guide (EPG), and more importantly, TPEG to process live traffic information. While KSW86GTC meets commercial grade applications, KSW86GTV is designed and certified for stringent in-vehicle applications which it satisfies industrial grade requirements such as wide temperature range from -40C to 85C, mechanic vibration tests, etc.
"We are glad to develop with KeyStone in realizing advanced DAB/DAB+/DMB products to address the needs for today' navigation systems that can manage and process the much-needed real time mobility information matching the ITS Missions specified in Directive of European Parliament July 2010," said CEO, Ms. Miao Wu, at Amaryllo MMG B.V. "KeyStone is the leading advanced digital radio semiconductor vendor that offers the best performance and the lowest-cost digital radio IC products. We are pleased to work with them in making this new series of products possible for ITS mobility management platforms."
Both KSW86GTC and KSW86GTV samples and demo units are now available for ordering. For more information on DAB/DAB+ with TPEG products, please contact Amaryllo at info(at)amaryllo(dot)com or KeyStone at contact(at)keystonesemi(dot)com.
About KeyStone
KeyStone Semiconductor Corp. is a technical innovator and leader in wireless digital radio semiconductor. Company is dedicated to providing a series of low-power and low-cost digital radio IC family for today's multimedia broadcasting market demands. KeyStone offers turn-key solutions from novel Apple and Android apps such as DAB GO!, FM GO!, POWER GO!, KEYSTONE to complete digital radio design platforms to reduce customers' time-to-market efforts.
KeyStone products enable the delivery of the enriched analog and digital multimedia contents to home and mobile environments. Company provides the industry with the lowest-cost system-on-a-chip turn-key solutions to manufacturers of analog and digital broadcasting access products and portable devices.
Company is funded by public and private entities and is headquartered in the Science-Based Industrial Park, Taiwan, and has offices and facilities in North America and in China. KeyStone can be contacted at +886.3.666.2756 or at contact(at)keystonesemi(dot)com.
About Amaryllo
The Dutch company, Amaryllo MMG B.V., develops traffic information data transferring and receiving via RDS & Digital broadcasting for mobile phones, and navigation devices. Since 2009 Amaryllo is involved several innovation projecting for smart traffic management platform in the Netherlands. Amaryllo was founded by a group of enthusiast professionals with a proven track of record in the navigation traffic information technologies. The company is funded with capital from the European Union and headquartered in Almere, the Netherlands.
Press Inquiries:
KeyStone Semiconductor Corp.
2nd Floor, 62 Park Avenue 2,
Science-Based Industrial Park,
Hsinchu, Taiwan 300
Office: +886-3-666-2756
Fax: +886-3-666-2758
Email: Contact(at)KeyStonesemi(dot)com
Web: http://www.KeyStonesemi.com
Amaryllo MMG B.V.
Markerkant 10136A
1316AL Almere, the Netherlands
Tel: +31 (0) 36 5345073
Email: sales(at)amaryllo(dot)com
Web: http://www.amaryllo.com
###