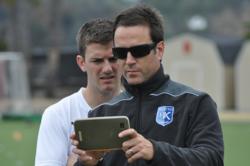 I've been very fortunate to have been able to play in the NFL for nine years," says Husted. "It was always my dream to be on the field for a Sunday game. Now that I am retired from professional football, I would like to help others reach the dream I lived
San Digeo, Calif. (PRWEB) January 25, 2012
Michael Husted, a nine year NFL kicker, has launched a new website called 'Michael Husted NFL Kicker' to showcase the many kicking projects he has created to help kickers reach their goal of playing professional football.
Husted, who played in the NFL for nine years on teams including the Tampa Bay Bucs and the Oakland Raiders, says his goal for all his projects is to help young kicking specialists reach the dream he has lived.
"I've been very fortunate to have been able to play in the NFL for nine years," says Husted. "It was always my dream to be on the field for a Sunday game. Now that I am retired from professional football, I would like to help others reach the dream I lived."
Husted says each of the projects he has created has a certain level of kicker in mind.
"For the high school kicker, I created the National Camp Series," says Husted. "For the college kicker I created the College Senior Pro Camp. For the Free Agents Louie Aguier and I run the Pro Camp and Combine every year. And for every level of player I offer 'One on One' kicking lessons and training in the San Diego area."
The new website also posts upcoming events occurring for each of these projects.
Over the last two weeks Husted conducted the College Senior Pro Camp (featuring Darren Bennett and his son Will) and the Pro Qualification Camp, which qualified kickers for the upcoming Pro Camp and Combine being held at the end of March in Las Vegas.
In two weeks, Husted will be in Orlando, Florida holding his Super Camp VI, which is part of the National Camp Series project.
"The NCS Super Camp is an annual event that brings the top football kicking specialists from around the country to learn from some of the best kicking coaches in the country," says Husted. "It is a two day high school kicking camp for kickers, punters, and long snappers seeking high level kicking instruction and the knowledge to play at the college level."
Husted says the quality of instructors for the Super Camp is outstanding and continues to grow every year and focuses on two primary goals.
"The NCS Network is committed to helping young athletes learn proper technique as well as to help them navigate through the recruiting process so that they can leverage their sport to get a college education."
For more information about Michael Husted and his projects go to: Michael Husted NFL Kicker
###