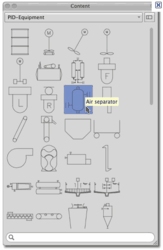 This is the first AutoCAD block library offered specifically for the Mac Platform on our site ...
Bend, OR (PRWEB) January 26, 2012
SimpleCAD has recently made available 3 new CAD Block libraries that are ready to work inside the new AutoCAD® version for Mac OSX.
The new block libraries are also offered for the PC version of AutoCAD®. Blocks for the Mac are selected using floating Content Palette and then dragged into the drawing space whereas Blocks for the PC libraries are selected using a pull-down system and then inserted.
The following Mac Block Libraries are now available:
 

 
All block drawings are both compatible with AutoCAD® for Mac and AutoCAD® LT for Mac.
Symbol libraries for the AutoCAD® Mac version will start out as version 1.0. and updates will become available as the block libraries grow in size.
SImpleCAD's President Erik Zetterberg says "the Mac block libraries are a welcomed addition to new AutoCAD ®Mac users. This is the first block library offered specifically for the Mac Platform on our site, so we are very excited about it's release."
The P&ID Library Contains 220 P&ID symbols. The Steel Shapes library contains over 1,000 steel shape cross sections and more. The Electrical block library contains 165 electrical symbols.
"Developers are also working on new libraries to be released in the coming months. They are making the libraries compatible will other CAD systems as well, so stay tuned" Erik adds.
The 3 symbol libraries set up to work both with AutoCAD® for Mac and Standard AutoCAD® versions including LT. All blocks are drawn in .dwg format at a scale of 1:1. Both Imperial and Metric versions are available.
About SimpleCAD:
SimpleCAD specializes in various AutoCAD® symbol libraries and Piping Software designed for the professional engineer and drafts person. They have been actively serving the AutoCAD® industry for over 25 years and offer various CAD solutions for different drawing applications.
Demos of new libraries are available upon request. Please email SimpleCAD - mail (at) simplecad.com or by calling their toll free line at 877-933-3929.
###