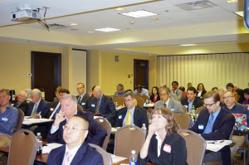 This is one of the best conferences for business networking.
Springfield, IL (PRWEB) January 25, 2012
Mr. Brian Su, CEO of Artisan Business Group, Inc., announces three major EB-5 investment and foreign direct investment (FDI) events in St. Louis on February 17, Miami March 20 and New York City on April 17, 2012. All conferences and seminars feature top-notch investment and legal experts and speakers in EB-5 and FDI communities. A large crowd of US company executives, commercial real estate developers, immigration attorneys, business lawyers, economic development professionals, private bankers, government officials, and venture capitalists, among others, is expected for this year's investment and business networking events. The upcoming business events will focus on learning, networking and making business deals. In 2011, over 1,000 executives from across the U.S. and foreign countries participated in EB-5 seminars and conferences hosted by Artisan Business Group.
"In the last five years, we have seen a very strong growth in investment activities from China, Korea, Japan and India. Their investments certainly help our communities to create more local jobs. I am very proud to present more high quality international investment and EB-5 investment conferences," says Brian Su, CEO of Artisan Business Group, Inc., an Illinois based Sino-US investment expert and leading authority on EB-5 regional center pilot program that attracts foreign investors to the US.
The foreign investment conferences will provide valuable insight and networking opportunities to those with previous international investment experience, as well as to first-time capital seekers. Artisan Business Group, Inc. specializes in advising American companies that are seeking foreign investment capital to fund various projects. The firm has organized various international investment and EB-5 investment conferences in Chicago, Boston, Orlando, New York, San Diego, Los Angeles, Houston, Las Vegas, Shanghai, and Guangzhou China.
To see more details about the event and registration, visit http://www.EB5NewsBlog.org.
Press Contact:
Brian Su
Artisan Business Group, Inc.
http://www.EB5NewsBlog.org
###