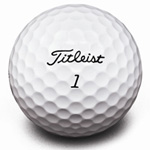 The reason is simple – a great combination of length, feel, and pure distance
Atlanta, GA (PRWEB) January 27, 2012
Editors from 10rate spent some time researching and trying out some of the newest Golf Balls and rating and reviewing them on the following criteria:
Consistency in length off the tee, spin control and the ability to hold greens, "feel" of the ball around greens for chipping and putting, durability, and price/value.
The annual 2012 Top 10 Best Golf Balls awards list was topped by the Titliest ProV1x winning the top quality spot and a 9 out of 10 rating. The review noted several strengths of the ball including the following exerpt, "More professional golfers prefer this ball or the original ProV1 to any other ball. The reason is simple – a great combination of length, feel, and pure distance. It's also got improved scuff resistance for increased durability and good spin control capabilities. "
The best value golf ball in the Comparison Golf Ball Ratings as rated by the author was the Nike One Tour and Tour Distance ball which editors noted is strong in many areas such as the following:
"This ball was once a competitor to the best balls on tour. It has an impressive 378 dimples and 4 layer construction (the Tour Distance ball has 3 layer construction). It contains a soft seamless outer cover and is a top ball in distance, control and feel."
Next, the best budget award from the Best Golf Ball Reviews was the Bridgestone e5 Golf Ball for which the reviewer commented, "Though a very good value price point, the Bridgestone e5 Golf Ball has great distance off the tee and isnt bad around the greens either. It has 330 dimples with an unusual dual dimple design, and a 2-piece cast urethane cover."
Titleist, Callaway, Bridgestone and Nike all had two balls to make the Top 10 list.
10rate.com conducts reviews in various product and services categories and publishes "Expert Top 10 Lists for Everything in your life." The company's web site strives to "Make it Easy" to select from the hundreds of choices there are in the product and service market place. All products and services are thoroughly researched by the companies expert editors prior to receiving a rating on a 1-10 scale. In addition to product reviews the companies editors write guidelines, buying guides and articles on various topics surrounding each product or service category covered to help educate the consumer.
###