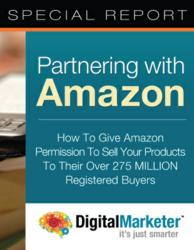 Amazon gets anywhere from 50 million to 100 million eyes on its site every month
Austin, TX. (PRWEB) January 25, 2012
Digital Marketing Labs e learning online experts, understands the importance of partnering with online giant retailers like Amazon, because of their credibility and large 275 million registered buyer customer base, so they released the "Partnering With Amazon" eBook. The eBook helps businesses bring their business online without a lot of technical knowledge or skills, because Digital Marketing Labs are e learning online experts.
Digital Marketing Labs realizes that small to medium sized online retailers face a two part challenge. The first being the fact that they have to attract visitors, and the second being they must find a systematic and effective way to compel visitors to take action on their offer, says the Digital Marketing Labs.
The "Partnering With Amazon" eBook is part of an extensive library of e learning courses, that the Digital Marketing Labs publishes to help online retailers market their products. The "Partnering With Amazon" eBook presents 3 alternatives for promoting products and websites, that piggy-back on the shoulders of the giant online retailer Amazon.
Amazon depends upon many small to medium size retailers to provide them with products to distribute, reveals the "Partnering With Amazon" eBook.
Amazon gets anywhere from 50 million to 100 million eyes on its site every month, reports the Digital Marketing Labs "Partnering With Amazon" eBook, and is ranked 5th in the United States and 14th globally. As of the publication of the "Partnering With Amazon" eBook, Alexa.com's traffic panel noted 663,832 sites linking in to Amazon.com, with demographic statistics showing the average Amazon user is female over 35 without children and making over $60,000 per year, which is traditionally one of the higher spend demographics., with 61.1% of Amazon.com users living in the U.S.
These type of statistics show how powerful "Partnering With Amazon" can be, because the Digital Marketing Labs understands that sales is a numbers game, and to sell products online they must be exposed to a massive amount of people. The Digital Marketing Labs has recently released a series of e learning programs like the "Partnering With Google" eBook, and the "Partnering With Apple" eBook, along with many more online marketing training programs. Join the Digital Marketing Labs to gain unlimited access to all of their e learning programs.
###