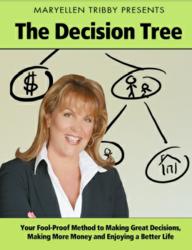 MaryEllen Tribby is temporarily including a complimentary copy of the $49 "The Decision Tree" eBook
Austin, TX. (PRWEB) January 25, 2012
All messages in the free WorkingMomsOnly.com newsletter will include specific skills that help ambitious working moms succeed. The goal is to provide tools to be healthier, wealthier, and obtain balance in life. MaryEllen Tribby, CEO, mother of 3, and best selling author, is the founder of the popular WorkingMomsOnly.com website, that is dedicated to providing quality content, and information to aid working moms with success and empowerment. Working Moms Only, where passion, empowerment and success meet, is made up of a panel of guest experts that supply their experience to help working moms in any way they can.
MaryEllen Tribby understands the demands of being a working mother, so she condenses the information in the newsletter to no more than 10 minutes of time to read, however, the productivity to be gained will be priceless. Working mothers that are willing to take action, and are open to stepping out of their comfort zone, will succeed. Working Moms Only is a community that is dedicated to empowerment of the working mother, and dedicated to the success of working mothers!
The Working Moms Only community knows life is a series of decisions, and understand that it is the decisions we make that lead us to a better life. That is why MaryEllen Tribby is temporarily including a complimentary copy of the $49 "The Decision Tree" eBook, for working moms that are trying to balance kids, work, and have time for themselves. The information provided in this report will help working moms, and the executive female gain more free time, establish (or re-establish) a strong connection with their kids and family, make more money, and be sure to make the right decision every time.
Find out the secret skill to getting everything you want in life, and getting everyone in the house to do exactly what they need to do with a smile on their face. Hurry, because this complimentary bonus of "The Decision Tree" eBook, is a limited time offer, and will soon return to the published price of $49 for each copy. Send this press release to every working mom that can use help with time management, financial skills, and much, much more.
###