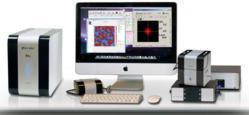 Santa Clara, CA (PRWEB) January 25, 2012
Nanounity announces that they are now offering The NT-MDT Solver Nano SPM. The Solver Nano is an SPM that offers advanced features and capability for users with research needs or for new SPM users in an ergonomic compact design at an affordable price.
The Solver Nano is a complete SPM, offering Atomic Force Microscopy (AFM) and Scanning Tunneling Microscopy (STM) techniques. Notable features include advanced software, digital control electronics, easy to align AFM probe holder design and optional educational measuring head for teaching purposes.
The system comes standard with many advanced imaging modes and features that are typically found on higher priced AFM's including Scanning Kelvin Probe Microscopy (SKM), Magnetic Force Microscopy (MFM), Scanning Spreading Resistance Imaging (SSRM), Piezo Force Microscopy (PFM) and 100x100x10 micron closed-loop high resolution scanner, that works in both high and low voltage modes.
The Solver Nano complements the existing line of NT-MDT AFM systems Nanounity distributes in the United States, by offering advanced research capability in an affordable, compact and easy to use SPM system.
More Information about the Solver Nano can be provided by contacting Nanounity at info(at)nanounity(dot)com or NT-MDT at info(at)nt-mdt(dot)com.
About Nanounity
Nanounity is a sales and distribution company, specializing in nanoscale imaging and analysis instrumentation, servicing and supporting research and engineering at universities, government laboratories, and industrial companies. Product offerings include Atomic Force Microscopes, Scanning Electron Microscopes, Stylus and Optical Surface Profilometers. More information about the company can be found at http://www.nanounity.com.
About NT-MDT
NT-MDT is a leading developer and manufacturer of Atomic Force Microscopes, Scanning Probe Microscopes and instrumentation used in the research and development of various fields of study related to nanotechnology. The company has provided solutions to scientist and engineers for more than 20 years. More information about the company can be found at http://www.ntmdt.com
###