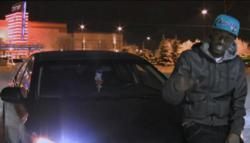 We want to show the world Amos' prowess for lyrics coupled with his marketability.
Anchorage, Alaska (PRWEB) January 26, 2012
Outta Step LLC is proud to present Amos' first official music video, "Get Busy". This video was filmed in less than 24 hours with the theme "A Night On the Town" and was inspired by theatrics from late 1980's hip-hop. The video is a promotional device to initiate a buzz on the internet as well as in Anchorage, Alaska for Amos' upcoming mixtape due to release Summer 2012. Get Busy was produced by Kenny Dubb who later recorded the video while Amos performed at The Anchor Pub and Club. "We want to show the world Amos' prowess for lyrics coupled with his marketability.", stated Kenny Dubb. The promotional film is available for viewing on YouTube. It can also be viewed at the bottom of this thread.
-About Amos-
Born,and raised in Flint, Michigan, Terrell Amos began his career as a poet. In 2007, Amos moved to Anchorage, Alaska and began rapping and freestyling in the local hip-hop scene. By 2010 a mixtape Amos was featured on found its way to producer Kenny Dubb. Dubb was impressed with Amos' wordplay and delivery and later setup a meeting. Since then, Amos has recorded his premiere single for Outta Step LLC/Island Def Jam Digital distribution, Da Wildcat and a string of music videos. His influences include; Pink Floyd, Jay-Z, Lupe Fiasco and Kanye West.
-About Outta Step, LLC-
Outta Step, LLC is a record label, founded by record producer Kenny Williams and entrepreneur Kenjuan Simon in 2010. The duo long had plans of establishing their venture but were in need of a title that represented the independent style they brought to the music industry. In June of 2010, Williams came up with the name "Outta Step" while on a flight from Tokyo to Dallas. Outta Step, LLC specializes in composing hip-hop, R&B, pop, and reggae records. The label has been cleverly dubbed "The couture of hip-hop beats" because every song is produced specifically for the performer's unique vocals, style, and creative goal. Today the company operates independently and has helped develop unsigned acts such as Kid Popular, Amos, and Znai.
Recordings from Outta Step, LLC can be purchased on iTunes and other multimedia distribution sites.
SOURCES Outta Step, LLC
###