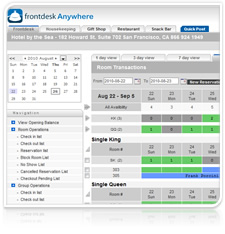 Our deals enable a business to GROW their traffic, customers, revenue and profit.
San Francisco, CA (PRWEB) January 25, 2012
Frontdesk Anywhere, a leading web-based hotel property management software company, today announced a partnership with GroupPrice.com, the world's largest B2B deal community. The partnership brings to hotel, motel and inn owners and managers money saving offers for marketing services, software and other items their businesses require.
"Our customers are very interested in leveraging the opportunities that the Internet can provide," Frontdesk Anywhere co-founder Thomas Lyle said. "This partnership delivers B2B deals that enable our customers to grow their businesses faster."
"Business owners currently endure a long process of searching, evaluating, comparing and buying for each piece of software and each service they purchase," GroupPrice CEO, Van Jepson stated. "We wanted to dramatically reduce their time and dollar costs by leveraging group buying and shortening the whole process into a five-minute slot in their day."
"This partnership brings high quality deals at a frequency that best suits the subscriber. The deals enable a business to GROW their traffic, customers, revenue and profit. These include deals on PR, SEO, video and social media," Jepson continued.
One deal is emailed daily to people who opt for the service. Subscribers can also opt for the weekly summary of the best deals during the week. Frontdesk Anywhere customers earn a special discount of 15% off of their first GroupPrice purchase.
About GroupPrice
GroupPrice offers services and software that help small businesses grow while cutting their costs. Free and easy to sign up, GroupPrice brings small business members and merchants together to leverage the power of group buying with discounts of up to 90 percent. GroupPrice is headquartered in Redwood City, Calif. For more information, visit http://www.groupprice.com or call 408-335-0281.
About Frontdesk Anywhere
Frontdesk Anywhere is a leading provider of innovative hotel management software for independent properties. To date, over 60,000 hotel guests have had their stay managed with Frontdesk Anywhere – from the initial online booking process through arrival, onsite operations and checkout. The company is focused on converging processes traditionally performed by separate systems into a single all-in-one productivity application. All modules are seamlessly integrated within the application and accessible from any computer and most mobile devices.
The company is a privately held corporation based in San Francisco, California.
For further information please visit FrontdeskAnywhere.com
###