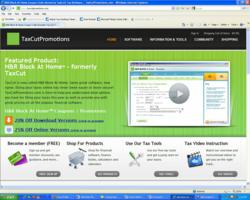 We love that people are excited about the 25% off H&R Block coupon. While everyone would love to be as wealthy as Mitt Romney, that's just not reality for the majority of taxpayers
Houston, TX (PRWEB) January 25, 2012
Yesterday TaxCutPromotions.com announced an exclusive H&R Block coupon for 25% off the H&R Block At Home tax preparation software (formerly H&R Block TaxCut). While it did not garner nearly as much media attention at Mitt Romney's tax return release earlier today, TaxCutPromotions.com is pleased with the enthusiastic reception the coupon received from related blogs and publications.
"We love that people are excited about the 25% off H&R Block coupon. While everyone would love to be as wealthy as Mitt Romney, that's just not reality for the majority of taxpayers," said Justin Bowen, CEO of TaxCutPromotions.com at company strategy session earlier today. "Our reality is that every dollar counts, and no blind trust or Cayman Island bank account is going to materialize to pull us through the hard times. It is incredibly important for us as individuals to be extremely pro-active in saving a dollar everywhere we can."
TaxCutPromotions.com is proud to be able to offer great coupons on great services for savvy internet shoppers. The limited time offer from H&R Block represents significant savings on a service integral to financial health. Unfortunately, the reality of taxes can be complex, with or without fabulous wealth. It is imperative that they be completed both correctly, and in a timely manner. The good news is that without vast holdings like Mitt Romney, H&R Block tax preparation software is a simple, cost-effective solution for the ordinary taxpayer. With automatic checking for inaccuracies or discrepancies, H&R Block guarantees the maximum allowable refund per individual, household or business. And for those lucky taxpayers who will be getting a refund, the 5 different methods of e-filing that come with all H&R Block software are an especially attractive option. E-filing your income taxes cuts down on the processing time significantly.
The exclusive 25% off H&R Block coupon is valid for any of the three online versions of the H&R Block At Home software; Basic, Deluxe, and Premium. Regardless of which H&R Block At Home software package best suits the needs of an individual or business, this special offer is worth looking into. Times are tight. And now through January 29th, 2011, American taxpayers in a hurry to see their tax refund can cash in on significant savings before even starting their taxes. All thanks to the exclusive new 25% off H&R Block coupon, available now at http://TaxCutPromotions.com.
###