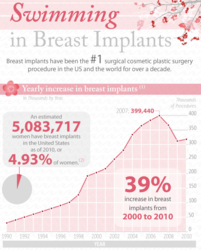 Most who live here on the left coast won't be surprised to see that more than one third of breast augmentations are performed in the West
San Francisco, CA (PRWEB) January 25, 2012
San Francisco-based plastic surgeon Dr. Donald Brown released "Swimming in Breast Implants," a new infographic containing the most current facts and statistics on breast augmentation in the United States, this week.
The graphic's information is based on research made available by the National Institute of Health (NIH), American Society of Plastic Surgeons (ASPS), RealSelf.com, and the United States Census. It charts the sharp increase in breast implants between 2000 and 2010, delineates the amount of money spent on breast implants in 2010—more than $2 billion—and demonstrates what a large portion of breast augmentations are performed in the Western states of the U.S.
"Any plastic surgeon can tell you that breast augmentation has only become more popular with the years," said Dr. Brown, "and most who live here on the left coast won't be surprised to see that more than one third of them are performed in the West. Patients come to California from every corner of the U.S. to get their breast implants—we have a reputation for excellence here."
In addition to presenting the basic numbers involved with breast augmentation in the United States, "Swimming in Breast Implants" explores the demographics of the women who are seeking out breast augmentation—including age, reasons for pursuing the procedure, and satisfaction with the results. The infographic shows that the highest percentage of women, 36 percent, get implants between the age of 30 and 39, and that the overwhelming majority—90 percent—get them after having children. Satisfaction with the procedure is also high: 79 percent of patients say they're happy with their results.
"There's a reason that breast augmentation has been the number one cosmetic surgery—not just here in the U.S., but worldwide—for so long now," said Dr. Brown. "As the high rate of patient satisfaction shows, this is a procedure that works. I hope this infographic serves as a helpful reference going forward, not only for other plastic surgeons, but for patients as well."
Dr. Donald M. Brown is an active member of the American Society of Plastic and Reconstructive Surgery, the American Society for Aesthetic Plastic Surgery, the American College of Surgeons, and the San Francisco Medical Society, among other reputable professional organizations. He has dedicated himself to providing his patients with the highest standard of cosmetic surgery possible throughout his career. His offices are located at 2100 Webster Street #429 in San Francisco.
For more information about the "Swimming in Breast Implants" infographic, or to find out more about Dr. Brown, visit http://www.drdonaldbrown.com or call (415) 923-3005.
###