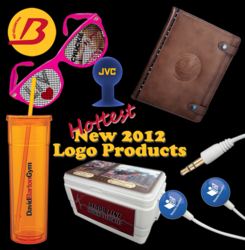 The new products really create some exciting possibilities for companies whether they're used as part of their marketing efforts, for corporate gifts or to reward employees.
San Diego, CA (PRWEB) January 25, 2012
BNoticed, a full service promotional products distributor of logo products and customized apparel, features its pick for the Hottest New Promotional Products for 2012.
Recognizing that business and corporations need to stay in-step with evolving technology and consumer tastes, the promotional products industry routinely introduces new branded merchandise that support the continuing and emerging trends. While promotional product suppliers introduce new products throughout the year, most new logo products are introduced at the beginning of the year when the industry holds many of its largest tradeshows to introduce new merchandise to distributors, such as BNoticed. With hundreds of new products introduced simultaneously, BNoticed recognizes that it can be challenging to find the hottest new items that will stand-out from the crowd in meeting business and consumer needs.
"Every year, we hear from clients who are looking for the newest and most creative promotional products available… something different." says Gregg Taft, owner of BNoticed. "In response to these requests, we've assessed hundreds of new products being introduced in 2012 from a wide array of suppliers to assemble a list of the hottest new promotional products for 2012. We included the most innovative new products that are most likely to be hits with businesses, employees and consumers as well as creative twists on products already widely popular."
Some highlights of the list include:

Customized coolers from Igloo® that feature full-color digital wrap imprints and, now, amazing full-color imprinted lids. These high quality coolers are available in 12, 24 and 48-can sizes and even offer low minimum order quantities.
Quality tablet cases from Leeds® including a high-quality debossed leather iPad2 case and a versatile debossed UltraHyde case that is designed to accommodate a wide range of tablets and even includes a refillable paper pad.
Custom printed ear buds that can be imprinted directly on the ear bud instead of simply on a case or retractor. In prior years, these were only available through custom overseas manufacturers in high quantities but are now available in as few as 50 pieces.
The Torino, a new twist on the hugely popular acrylic tumblers with color matching straws and lids. This durable tumbler is a sleek, thinner and taller version that would be perfect at the pool or office. The manufacturer of this new tumbler offers industry leading imprint capabilities including a wrap-around imprint rather than just a small imprint area on one side.
New twists on the popular neon rubber sunglasses imprinted on the arms that include glitter sunglasses, tie-dye styled sunglasses and even glasses that feature an imprint covering the lenses… and you can still see out.
"With the explosion in personal electronics, like the iPad® and iPhone®, there are a number of new accessories from Custom iPad Cases to tablet stands and touch styluses now available for branding." says Taft. "And there are also a variety of products that previously could only be purchases in large quantities overseas which are now available in as few as a couple hundred, like custom imprinted shoe laces! The new products really create some exciting possibilities for companies whether they're used as part of their marketing efforts, for corporate gifts or to reward employees."
The complete list can be found on BNoticed's Featured Products page of its website at http://www.bnoticed.com.
About BNoticed
BNoticed is a full service distributor of innovative and lasting promotional products and logo apparel. The company serves a wide range of businesses, organizations and non-profit causes to build brand recognition, promote events and outreach programs, and create effective marketing campaigns. Based in San Diego, California, BNoticed provides products and services to customers nationwide.
###