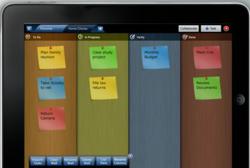 We are excited to roll out these important enhancements that will allow our user base on Apple iOS to collaborate and better manage their tasks and projects through uTrack
Herndon, VA (PRWEB) January 26, 2012
TenPearls, a global application development outsourcing company, announced today the launch of a collaboration module for the iOS version of uTrack Pro, an award-winning mobile application that helps both individuals and groups to improve overall productivity and agility in both their business and personal lives. uTrack provides users better organization, collaboration, tracking and visualization of their to-do's broken down by each of the projects they are involved in.
uTrack is being used globally by a diverse group of people for helping them organize both their business and personal lives. uTrack users include Agile and Kanban practitioners, projects managers, individuals, group administrators, teachers, business owners and students. The uTrack mobile app is available as both a free app with limited features called uTrack Lite, and as a paid app with full features, called uTrack Pro. The App is available for the following platforms: Apple iOS (iPad and iPhone), Android (tablets and smart phones), Blackberry (Playbook), Windows Phone, and Symbian (Nokia).
This latest iOS version of uTrack Pro (Version 1.4) comes with the following enhancements. The collaboration and data backup are available through an in-app purchase.

Collaborate module for sharing and retrieving tasks, walls and projects
uTrack user accounts
Data backup and restoration on same or other devices
Under List View, display of tasks by Date
App information section
"We are excited to roll out these important enhancements that will allow our user base on Apple iOS to collaborate and better manage their tasks and projects through uTrack. Most of the innovation on this task/ project management mobile app has come through our internal experience and feedback from the user community," said Imran Aftab, President of TenPearls. "We plan to launch similar functionality for the other mobile platforms in the future."
More information about uTrack is available at: http://www.utrackx.com
About TenPearls
TenPearls is an award-winning, global application development company helping businesses build products. We have successfully delivered solutions spanning mobile, enterprise, web, and games. Our technical strength combined with our experience in usability, agile requirements gathering, iterative development process and commitment to innovation allows us to successfully partner with our customers. Our diverse clientele include start-ups, small & medium sized companies and large corporations.
Contact Information:
TenPearls
13800 Coppermine Road, Herndon, VA 20171
+1-703-234-5330
###