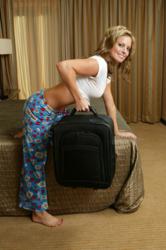 "Absolutely the best book I've ever read in my whole life! It's hilarious and well written."–Dr. Hope's mom
Las Vegas (PRWEB) January 26, 2012
As a professional poker player, award winning children's book author and jazz musician, Tim 'Dr Hope' Anders moves around a lot. In this special re-release of his book he reveals how he stays in shape and keeps his mind sharp while on the road.
"It's hard enough trying to maintain a good eating regimen while traveling, let alone trying to hit the gym," said Dr. Hope. With Tim 'Dr Hope' Anders book, "Pumping Iron: A Traveling Poker Player's 10 Minute Hotel Room Workout" a traveler can now "feel the burn" without leaving their room just by using items normally found in any hotel room such as luggage, irons, etc. A traveler will learn simple, quick and easy exercise workouts to keep them in shape using just ten minutes of their time.
"Anyone who travels needs this book," said author and part-time professional poker player, Tim 'Dr. Hope' Anders. His unusual presentation is a laugh out loud demonstration designed to keep any traveler in shape while traveling. This easy 10 minute hotel room workout is beautifully demonstrated by the gorgeous Courtney Friel, (Season four World Poker Tour host) in stunning full color photographs. This exercise program was specially formulated through a collaboration between Dr. Hope and a personal trainer with over twenty years of experience in the fitness industry. Through Dr. Hope's enormously humorous dialogue and lovely Courtney's body movements a traveler will learn how to stay in shape while in the privacy of their hotel room. Stretches, resistance, cardio, it's all here in a quick and easy program.
Also included in this book, as an added bonus, is Dr. Hope's Helpful Hold 'em Hints. These are essential tips for anyone who plays No Limit Texas Hold 'em poker or wants to learn. The tips include: hand selection, how to gather information from other players, the importance of poker math, when to throw good hands away and much, much more. Here's what people are saying:
"Absolutely the best book I've ever read in my whole life! It's hilarious and well written." –Dr. Hope's mom
"If you travel you need this book! You should buy at least one copy - no wait- at least three copies of this fantastic innovative book!" –Dr. Hope's publisher
"I'm a silly guy. (I just can't help myself.) I think laughing is the best exercise of all and if I made just one person who read this book laugh and get on the program, well that would be enough for me... to bankrupt my publisher and ruin me as a writer!
I can't tell you how much fun it's been writing this helpful, informative (Did I mention extremely funny?) exercise book and sharing a few poker hints with you. I especially loved working with Courtney and the photo shoot crew, (having my picture taken with them in a bath tub was a thrill—yes, that photo is in the book—and, of course, the people at Harrah's Rincon Casino; they all did an excellent job. Thank you guys!" --Dr. Hope
About Tim "Dr. Hope" Anders: Dr. Hope is an award-winning children's book author who also writes books for grownups. He has written the forbidden love story of his parents, Everybody Calls My Father, Father where he reveals to the world that his father was a Catholic priest. He also is a recipient of the FOR THE LOVE OF A CHILD AWARD from Childhelp an organization that fights child abuse. For more information about him go to http://www.DrHope.com
###