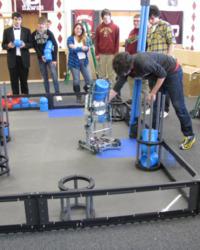 Grandville, MI (PRWEB) January 27, 2012
Grandville Public Schools and the Grandville Academic Team Boosters are proud to announce that they have entered into a partnership with the Robotics Education & Competition Foundation to bring a VEX World Qualifying tournament to West Michigan.
More than 300 leading middle and high school VEX Robotics students and mentors from across Michigan will unite at Grandville Middle School on Saturday, February 11 for the Grandville AutoDesk VEX Tournament. This action-packed tournament will feature 24 teams who will compete with and against other schools in a series of back-to-back robot challenges, with the winner of this event qualifying to compete in the VEX World Championship. The action starts with qualification matches at 9:30am. The alliance elimination rounds start at 2:30pm, with the championship round scheduled for 3:30pm.
The Grandville AutoDesk VEX Challenge is one of a series of VEX Robotics Competitions taking place internationally throughout the year. VEX Robotics is the world's fastest growing competitive robotics program for middle schools, high schools and colleges around the world, with more than 4,000 teams from 20 countries that participate in more than 250 VEX Robotics Competition events worldwide. The competition season culminates each Spring, with the highly-anticipated VEX Robotics World Championship event, uniting top qualifying teams from local, state and international VEX Robotics Competitions.
"The technological economy of the future depends on equipping today's youth with the tools necessary to become tomorrow's leading innovators," said Doug Hepfer, Coach of the Grandville RoboDawgs. "This tournament provides kids with an engaging hands-on learning experience that instills in them an appreciation for robotics and an enthusiasm to pursue science and technology education and careers."
The VEX Robotics Competition serves as a vehicle for students to develop critical life skills such as teamwork, leadership and project management, honed through building robots and competing with like-minded students from the community in a pulse-pounding, exciting, non-traditional environment. The VEX Robotics Design System was built from the ground up and designed to be an affordable, accessible and scalable platform used to teach science, technology, engineering and math education worldwide.
For additional event information, contact Doug Hepfer or Mike Evele, Grandville RoboDawgs head coaches, at (616)540-3239
More information about VEX Robotics Competitions is available at http://www.vexrobotics.com and http://www.robotevents.com.
About Grandville Robotics
Grandville Public Schools has been a leader in educational robotics for more than 10 years. Beginning with one high school robotics team in 1998, the district's program has now grown to include more than 30 teams. More than 500 students, from fourth through twelfth grades, participate on Grandville robotics teams, designing, building, and programming robotics for competitions around the world. Grandville has one of largest Lego League programs in the country, with the District fielding 17 teams this year. These students go on to compete in the District's VEX Robotics program at the middle school level, as well as the FIRST Robotics competition and the Great American River Race at the high school level. The Grandville Academic Team Boosters provide financial, technical, and coaching support for the Grandville robotics teams and other academic teams in West Michigan.
About the REC Foundation
The Robotics Education & Competition Foundation, a 501(c) (3) non-profit organization, supports robotics and technology events and programs that aim to inspire and motivate students to advance in STEM education. In addition to operating and supporting competitions for some of the world's leading robotics platforms and organizations including VEX, TSA and BEST Robotics Competitions, the foundation also provides program support and workshops focused on technology and professional development for educators – including the RobotEvents.com community portal website which helps promote multiple high quality programs and provides online registration and event pages for hundreds of events around the world.
# # #