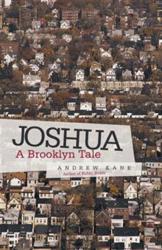 GREAT NECK, N.Y (PRWEB) January 26, 2012
A three-day riot occurred from August 19–21, 1991 in New York City after the child of two Guyanese immigrants was accidentally killed by an automobile. This horrific affair was forever known as the Crown Heights Riots of 1991. Culminating with these disastrous riots, Andrew Kane's Joshua: A Brooklyn Tale (published by Abbott Press) is a gripping work of historical fiction, a coming-of-age novel that provides a unique perspective of racial tensions between Jews and African Americans in Brooklyn, New York.
Joshua tells the stories of three young people wrestling with their troubled pasts, family conflicts and the confines of religion. Joshua Eubanks is a young black man struggling to overcome the crime, drugs and despair of the streets. Rachel Weissman is the daughter of a Hassidic rabbi, riddled with pangs of rebelliousness against the insular and restrictive practices of her religion. Paul Sims, the product of a privileged Long Island Jewish family, yearns to escape his agonizing past. Together, their stories provide a captivating look at human tragedy and redemption through the eyes of three young individuals.
Kane is extremely knowledgeable about the relationships between Jews and African Americans as he has had extensive experience working with Hasidic and African American individuals and families. He is a great novelist and story teller who is uniquely able to add additional insights and extra depth to his characters that many other writers and authors may lack, utilizing his expertise in the field of psychology.
Joshua is a gripping piece of historical fiction that provides insight to racial issues of the past in an effort to create a more accepting, hopeful future.
About the Author
Andrew Kane is also the author of the critically acclaimed, controversial novel, Rabbi, Rabbi. He holds a Ph.D. in psychology from Yeshiva University and is a clinical psychologist in private practice. He lives in New York with his wife and two children.
Abbott Press, a division Writer's Digest—the oldest and most respected publisher devoted to the education and advancement of writers—is an indie-publishing imprint dedicated to helping writers bring their literary vision to print. Author Solutions, Inc., a leader in indie book publishing, will fulfill publishing, sales, and marketing services for Abbott Press. For more information, or to begin publishing a book today, log on to abbottpress.com or call 866-697-5310.
###