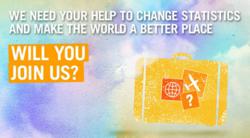 (PRWEB) January 25, 2012
Online travel agency eDreams (http://edreams.com) has announced its goal for 2012: that of changing travel related statistics with the help of social media.
The first mission of the "Turn the World Around" (TTWA) campaign focuses on raising awareness about some of the least visited places in the world, such as Madagascar.
The first competition of the social media campaign starts today on eDreams' Facebook pages in English (http://on.fb.me/xcbGQy), Spanish, Italian and French and will last for 5 weeks. Each week eDreams will reveal a new destination of one of the less travelled places in the world and each week eDreams' Facebook fans will have the opportunity to win 2 tickets to the exotic destinations featured in the campaign.
For a chance to win the tickets, participants are invited to join the game (http://apps.facebook.com/edreamsttwa), pick a travel mate, create a virtual passport, and get as many stamps from their friends as they can. As the competition has a strong focus on raising awareness of the places mentioned during the campaign, participants will be asked to explain why they would like to take this trip and why their team should win. The winner will be chosen from the three teams with the highest number of stamps, based on their explanation on why they want to win.
About eDreams
eDreams (http://www.edreams.com) is one of the leading online travel agencies in Europe. The company offers its services in Spain, Italy, France, Portugal, Germany, UK, Australia, Brazil, Canada, Mexico, Chile, India, Peru, Venezuela, Argentina, Colombia, Switzerland, Turkey, USA and to the global market in English. eDreams has had one of the highest growth rates in the European online travel market. The company has a wide selection of flights, hotels, flights + hotel and other products that are available to its clients through booking engines that integrate the latest price and search technologies.
###